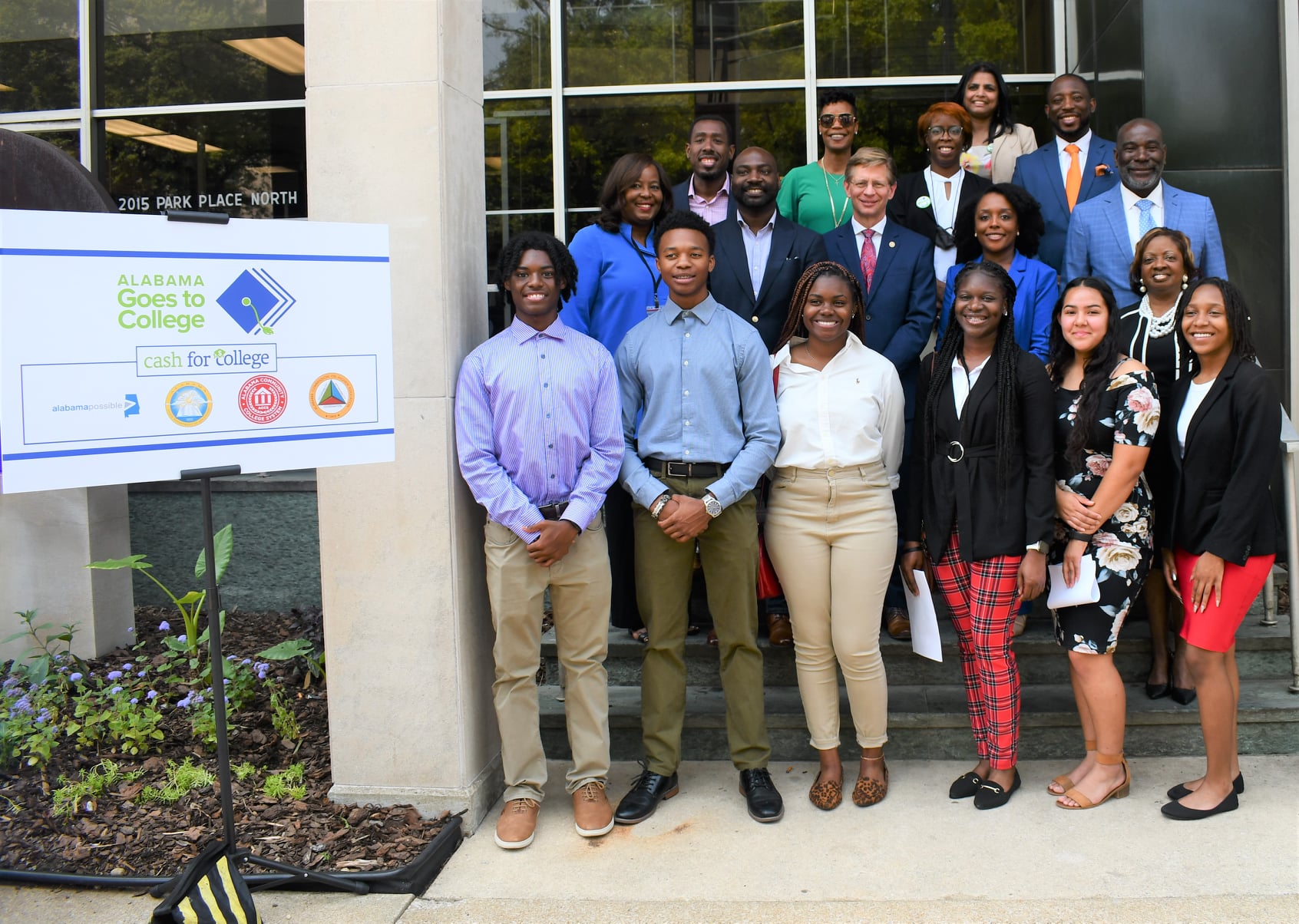 ALABAMA (May 26, 2022) — Alabama Possible and the Alabama State Department of Education celebrated the significant increase in Free Application for Federal Student Aid (FAFSA) completion in Alabama on May 18.  
During the press conference at the Birmingham Board of Education office, leaders discussed recent data that ranks Alabama in the top 10 states for FAFSA completion. The commendable efforts being led by high school counselors and career coaches have elevated Alabama to rank first in the nation in year-over-year FAFSA completion.  
Completion of the FAFSA is a strong indicator of what postsecondary enrollment will look like in Fall 2022. Research reveals 92% of students who complete their FAFSA before graduating high school enroll in college the following fall, while only 51% of non-completers do.  
State Superintendent of Alabama State Department of Education, Dr. Eric G. Mackey said, "We value education and opportunity, so whether students' pathways after high school leads to a technical program, community college, or a four-year institution, we want them to understand how to access funds that can help pay for higher education. It is refreshing to see Alabama climbing the charts in educational opportunities and attainment. Our partnership with Alabama Possible is a key factor in this extensive growth in FAFSA awareness."  
Alabama Possible Executive Director, Chandra Scott, leads the organization's efforts to collaborate with partner agencies throughout the state to increase FAFSA completion.  
"Many families in Alabama don't engage in conversations about education after high school with their students because they are under-resourced and face many financial barriers. Completion of the FAFSA opens the door to financial aid resources," Scott said. "We must keep reminding ourselves that equitable access to postsecondary education is not only an economic imperative, but a moral imperative and is a strategy to ending generational poverty in Alabama."  
Birmingham City Schools Superintendent, Dr. Mark Sullivan said he is pleased with the school district's overall increase in FAFSA completion. "We want all our scholars who desire to attend community college or four-year institutions to have that opportunity. Completion of the FAFSA helps remove some of the barriers that prevent students from pursuing their dreams of higher education." 
Alabama Possible supports educators year-round and concludes the academic year with a virtual state-wide celebration. Alabama Possible invites you to celebrate high schools for their commitment to supporting students on their journey to postsecondary pathways at the virtual Alabama Goes to College Celebration Day on June 1 at 10:00 a.m. This event will feature the winners of the Cash for College awards from Alabama Possible and the winner of School of Excellence awarded by the American College Application Campaign. School counselors and career coaches will share the strategies they use to enhance a college- and career-ready culture. You can register at alabamapossible.org/events.