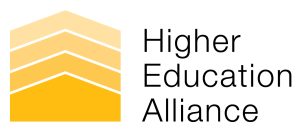 Alabama Possible's Higher Education Alliance (HEA) initiative partners with two- and four-year colleges and universities to make a meaningful impact through service-learning, civic engagement and outreach activities. This initiative provides a platform for the members to connect and collaborate. They receive technical assistance, consulting, workshops, training, advocacy, and research to drive equitable increases in postsecondary attainment.
Impact of the HEA
Our HEA members were able to attend a virtual Hill Day for the first time in 2021. Their collective voice contributed to the needs of students being met during the pandemic as funding decisions were being made at the federal level.

Through our partnership with Complete College America (CCA), in the 2021-2022 academic year, we were able provide workshops for their leadership teams spanning a wide range of subjects: enrollment, retention, student support services etc.

Leveraging our partnership with Civic Labs we will provide workshops on Diversity, Equity, Inclusion and Belonging in 2022-2023.

On May 9, 2022, the nation's first Historically Black Community College (HBCC) and Predominately Black Community College (PBCC) Network was launched In partnership with Complete College America, Lumina Foundation and Annie E. Casey Foundation with Alabama Possible serving as the convenor. This network will focus on pathways development to support adult learners of color in attaining credentials at Alabama's eight HBCCs/PBCCs.
To advance the state's commitment to adding 500,000 credentialed Alabamians to the labor force, the Alabama Commission on Higher Education (ACHE), Alabama Possible, and the Governor's Office of Education and Workforce Transformation (GOEWT) launched the (Re)Engage Alabama Initiative, an adult attainment-focused Continuous Improvement Meeting Series intended to align multiple ongoing initiatives that target students over age 25 seeking baccalaureate degrees.
Our Why
Education, we believe, is the road to a better life, and we work at the intersection of practice and policy to ensure all young people can pursue their education without sacrificing their economic futures. Our research-driven work equips policymakers, educators, and business leaders, along with students and their families, with tools and relationships to build a college-going culture. We all benefit when everyone has the opportunity to complete a valuable postsecondary credential, and our programs make that possibility a reality. By acting as a catalyst and convener, Alabama Possible works with stakeholders throughout the state to set expectations, create conditions and policies, and align community and statewide resources to eradicate poverty.
Alabama Possible builds capacity and nurtures reciprocal community partnerships to ensure that our research-driven work is effective and sustainable. For your college/university needs, please contact Manisha Mishra at mmishra@alabamapossible.org.