Alabama Possible, Alabama State Department of Education recognize schools for excellence in advancing FAFSA completion
Alabama Possible and the Alabama State Department of Education Wednesday will celebrate high schools for advancing a college-going culture.
The virtual Alabama College Campaign Celebration and Professional Development Workshop will take place on Wednesday, July 1, from 11:00 AM to 12:45 PM. This event will feature remarks by Alabama State Department of Education Superintendent Dr. Eric Mackey and insights on best practices from school counselors and career coaches. Registration is open at alabamapossible.org/events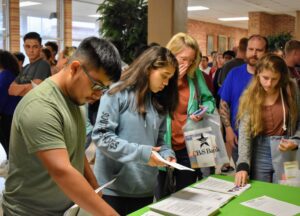 Alabama Possible serves as the backbone agency for the Alabama College Campaign, which includes College Application Week, Cash for College Alabama, and College and Career Decision Week. The Cash for College campaign partners with school counselors, career coaches, and other educators at high schools across the state to promote completion of the Free Application for Federal Student Aid (FAFSA).
"We are thrilled to celebrate these high schools for their commitment to postsecondary education and creating a college-going culture," said Kristina Scott, Alabama Possible executive director. "It's exciting to see schools connecting students with resources so they can continue their education after high school."
The high schools with the highest FAFSA completion rates for their senior classes as of May 31, 2020, are:
Small: Amelia L. Johnson High School (Marengo County), 100 percent completion
Medium: Ramsay High School (Birmingham City), 82 percent completion
Large: Helena High School (Shelby County), 62 percent completion
The small, medium, and large high schools with the most improved FAFSA completion rate from October 1, 2019, to May 31, 2020, compared to the same time frame last school year are:
Small: Meek High School (Winston County), 154 percent improvement
Medium: Parker High School (Birmingham City), 81 percent improvement
Large: Huffman High School (Birmingham City), 79 percent improvement
Each winning school will receive a grant to further a college-going culture in their high schools.
Since kicking off the 2019-2020 campaign on October 1, 2019, educators at the 346 high schools participating in the Alabama College Campaign and Cash for College have worked alongside 48,290 students and their families to complete nearly 23,000 FAFSAs.
"As schools across Alabama closed due to COVID-19 in March, many students had limited access to school counselors, career coaches, and other advising resources. We applaud Alabama's school counselors' and career coaches' efforts to keep in touch with their students and ensure that their students graduate from high school college- and career-ready," said Sean J. Stevens, program coordinator of instructional services at the Alabama State Department of Education.
Any student seeking federal or state financial aid – including grants, loans, and work-study programs – must complete the FAFSA. Most Alabama students will qualify for Pell Grants of up to $6,345 per year. Students can use Pell Grants for two-year and four-year technical and academic programs.
Students and families can still complete financial aid forms and college applications. They can learn more about the FAFSA and Cash for College by visiting cashforcollegealabama.org and get help with the college enrollment process by calling or texting the Cash for College Help Desk at 334.316.6155.
Above: Students and families attend a Cash for College kick-off event at Russellville High School in August 2019.