updated on April 30, 2020
Congratulations on filing your Free Application for Federal Student Aid (FAFSA) and taking the first step towards getting cash you can use to pay for college. Now that your financial aid forms have been submitted, you and your family may be wondering what happens next. Here's our guide outlining what happens after you've submitted your FAFSA.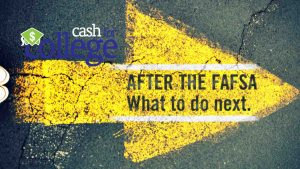 After you file your FAFSA, you will receive a Student Aid Report (SAR). The SAR summarizes the information you provided in your FAFSA and contains a number that is key to determining your eligibility for financial aid. Here's how to read your SAR:
Make sure your SAR is correct.
Double check that all the information you submitted via the FAFSA is correct in the SAR. It is easy to correct or update information in your FAFSA.  Click here to learn more.
Find your Expected Family Contribution
The Expected Family Contribution (EFC) is used to determine your eligibility for Pell Grants and other financial aid. It is not the amount you or your family must pay for your college education. There are several factors that determine how much you will actually have to pay for postsecondary education, including how much money you qualify for in grants, scholarships, and work-study and how much attending your college costs.
What if my EFC is not listed on my SAR? If your EFC is missing, it means that your FAFSA is incomplete. Review the SAR carefully to determine which information is missing or what the system has flagged as inaccurate.  Make corrections as soon as possible. You can find out how here.
Understanding What Happens Next
The schools you listed on your FAFSA will also receive your EFC.  Each school will offer you a financial aid package if you are granted admission. Your financial aid package will also include federal aid such as the Pell Grant or federal student loans if you are eligible. Additionally, some schools may offer you work-study, which is a program that allows students to work part-time on or off-campus. You will need to consider and compare offers and the total expenses required to study at each college in order to make the best decision for you. Generally, you want to accept aid in this order:
Accept free money (scholarships and grants)
Accept earned money (work-study)
Accept borrowed money (federal student loans)
For more advice on accepting financial aid from Federal Student Aid, click here.
Didn't receive a SAR? Here are some steps to take:
Make sure enough time has passed. If you submitted your FAFSA online with your FSA ID signature, you should expect your FAFSA to be processed in 3-5 business days. If you submitted via mail or mailed in the signature page, it will take 1-2 weeks.
Check your spam folder. Search for emails from FederalStudentAidFAFSA@cpsemail.ed.gov.
Double check that you actually submitted your FAFSA with your signature. Your FAFSA is not complete until you and your parents have signed it. Learn how here.
Has your family's financial situation changed or do you need to ask for additional financial aid?
Swift Student is a free website that will help you write a letter to send to your college's financial aid office requesting additional assistance. Swift Student has a form for many common situations, such as losing a job due to COVID-19 or requesting child care assistance. Reminder: Your college might have a form already on its website for appealing offers. Check with them first, and then move forward with Swift Student if you need additional assistance.
Still not sure what to do? 
Use the Federal Student Aid Information Center for help. You can call, email, or chat online with federal aid professionals. You can also ask your school counselor, career coach, or your college's financial aid office for help.
Follow Alabama Goes to College Alabama on Facebook, Twitter, and Instagram for more information on how you can get cash to pay for college. Have more questions? Give us a call or text us at 334.316.6155‬