You think you finished your FAFSA. . . but you aren't sure. Here are some steps to figure out what happened to your FAFSA.
If you submitted your FAFSA online, its status will be available in three to five days. If you submitted it via mail, it will take seven to 10 days. Here's how you can check your FAFSA's status:
Check your email (or the mailbox).
If you included an email address with your FAFSA submission, you will receive an email with a link to your Student Aid Report (SAR). Click on it to check your status.
If you submitted the FAFSA via mail without an email address, you should receive a paper SAR back in the mail.
What if I didn't get a SAR?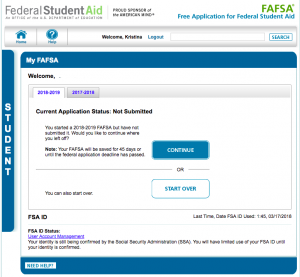 There's probably something missing from your FAFSA. Student, log in with your Federal Student Aid (FSA) ID at FAFSA.ed.gov. Parents, log in using the student's legal name, date of birth, and social security number.
Look for your FAFSA status in bold text on the My FAFSA page. It could say "not submitted," "processing," or something else.
Unless it says "processing," your FAFSA isn't actually done and you won't be eligible for grants or other financial aid.  Pick up where you left off and keep working.  You only have 45 days to complete your FASFA once you start; if you wait longer, you will have to start all over again.
If it says "processing," wait a couple days and check again.
Still not sure what to do? 
Use the Federal Student Aid Information Center for help – you can call, email, or chat with them. You can also ask your school counselor, career coach, or your college's financial aid office for help.
Image from https://fsaid.ed.gov/