May 27th, 2014

On May 8, at Southside Baptist Church, the Blueprints College Access Initiative celebrated its fifth school year.
During 2013-2014, 150 Blueprints mentors from ten colleges and universities worked with 697 students in nine high schools. Of the 289 Blueprints seniors in this year's class, 100 percent were accepted to college, 85 percent completed the FAFSA, and they earned over $6.2 million in supplementary scholarships.
Students, faculty, donors, and community partners gathered to reflect and celebrate these successes. Amongst the food and laughter, Executive Director Kristina Scott congratulated the graduating seniors and encouraged the other students to keep working hard.
The students shared that they were grateful for the consistent support and availability of their Blueprints mentors.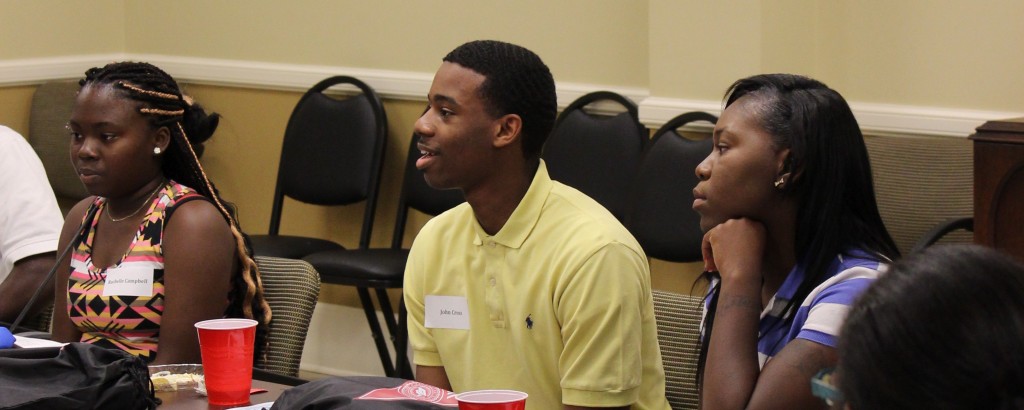 "I am thankful for all of the resources and support offered by Blueprints. There are so many things I would have missed out on had I not been a part of this program. My mentor kept me up to date on scholarship and application deadlines, helped me file the FAFSA, and attended financial aid meetings at Samford and UAB. Without her, I would not have known many of the things I know now. I definitely would not be attending UAB this fall," said John Cross, the Woodlawn High School valedictorian.
Blueprints mentors individual students, builds a college-going culture in Alabama high schools, and collaborates with like-minded organizations. Blueprints students are teamed with college student "near peer" mentors who equip them to make structured decisions and navigate the college admissions process.
The celebration also served as a send-off for program coordinator Kevi Martin. Kevi, who will begin her service as a Georgia Teaching Fellow in the fall, spent two years cultivating students' potential and lasting relationships with faculty, staff, and community partners around the state.
Blueprints successes are made possible through collaboration, and we were happy to share in celebration of such a milestone with high school and post-secondary faculty and staff along with past college student mentors and representatives from the Birmingham Education Foundation and theUnited Way of Central Alabama. The end-of-year celebration was an evening of fun and recognition. The night ended with attendees' spirits lifted and encouraged to reach even higher next school year.
Thank you to the following higher education partners whose support and service-learning faculty, staff, and students make our work possible: Athens State University, Birmingham-Southern College,Lawson State Community College, Northwest-Shoals Community College, Samford University,Shelton State Community College, Troy University, The University of Alabama, University of Alabama at Birmingham, and University of Montevallo.
Further Reading: