This year College Application Week is Monday, November 4 to Friday, November 9, 2019. Thanks to College Application Week, high school students in Alabama can apply to college for free!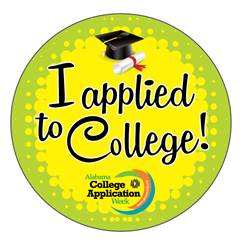 College Application Week is a part of Alabama Possible and the Alabama State Department of Education's Alabama College Campaign, which encourage students across Alabama to pursue their education after high school.
Alabama high school seniors can apply for free to colleges during College Application Week. The list of participating schools is not yet available, but will be shared in this blog entry as soon as it is.
Spread the word about College Application Week and tell your story about why applying to college is important to you using #WhyApply. To learn more about the American College Application Campaign click here.