Last October, the National College Attainment Network selected Alabama Possible to join a cohort of 33 Member Advocacy Fellows. Alongside college attainment practitioners from around the country, we will build upon our advocacy work by engaging representatives on federal policy issues impacting college access, affordability, and attainment.
A key component of this work involves amplifying student voice. We selected two current college students, Savannah Berryman and Kaila Pouncy, to join the advocacy efforts. In collaboration with Alabama Possible's Data and Research Manager, students will advocate for investment in postsecondary attainment by sharing their personal stories.
Student fellows started their term by taking to social media to build awareness of the college affordability gap. Recognizing that only 38% of four-year institutions in Alabama are affordable, student fellows advocated for a continued and strengthened investment in the Pell Grant, free aid that can be used towards technical or academic programs. As part of the #Thankful4Pell and #DoublePell campaign, students and staff members also wrote their members of Congress to demonstrate the impact of the Pell Grant.
Next up, we're preparing for NCAN's Virtual Advocacy Week at the beginning of March. This week-long process will involve meeting with congressional offices to share data and stories highlighting the need for federal investment in postsecondary education with a particular focus on closing equity gaps for underrepresented students. Student fellows will have the opportunity to speak directly with elected officials about their experiences pursuing postsecondary credentials, including all of the challenges and successes they have had so far! Get to know our student fellows below!
---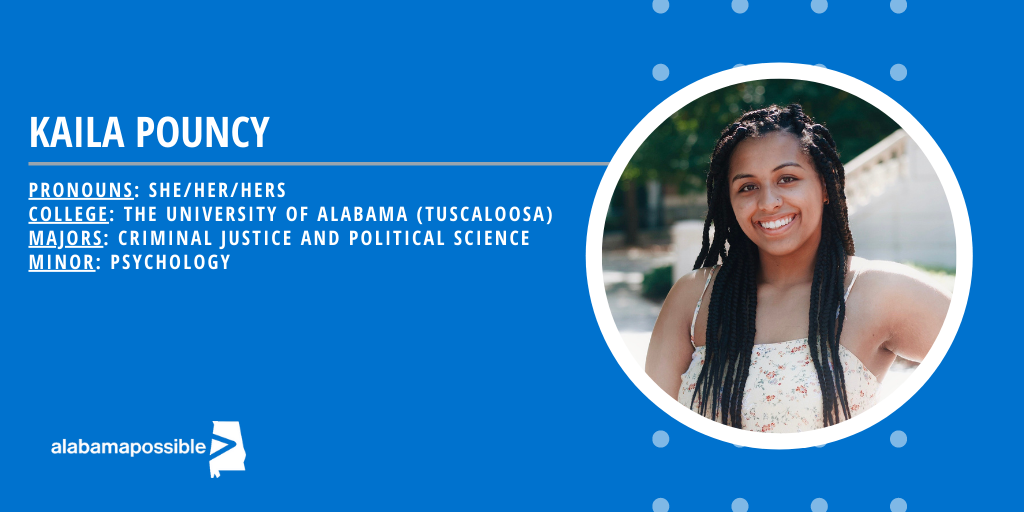 How do you get involved on your campus?
I currently serve as a Judicial Clerk for the Student Government Association, an Organizational Committee Head for the University of Alabama League of Women Voters, and the Vice President of our Women and Gender Resource Center Student Leadership Council. In my free time, I am an attorney for the University of Alabama's Mock Trial and a contributing writer for Alice Magazine.
What are you excited to learn and participate in during your fellowship?
I am SUPER excited to communicate with our congressional representatives! In a time where so much is going on, it is super important to remind the people serving in Congress of our needs so that efficient change can be made. I am also excited to see how those changes are made!
What is one thing you love about the state of Alabama?
I love the southern charm! The warm, welcoming nature can make strangers feel like family. Plus, when you say Roll Tide, everyone says it back!
What energizes you?
Something that energizes me is reading! I love to read. When I was little, I'd get lost in books and finish at least three full length novels a week. I wish I had that type of time now! Alas, I love psychological thrillers and revolutionary texts. Essentially, if it aids my thinking process or helps me learn something new, I'm there. My favorite book right now is "Crime and Punishment" by Fyodor Dostoevsky.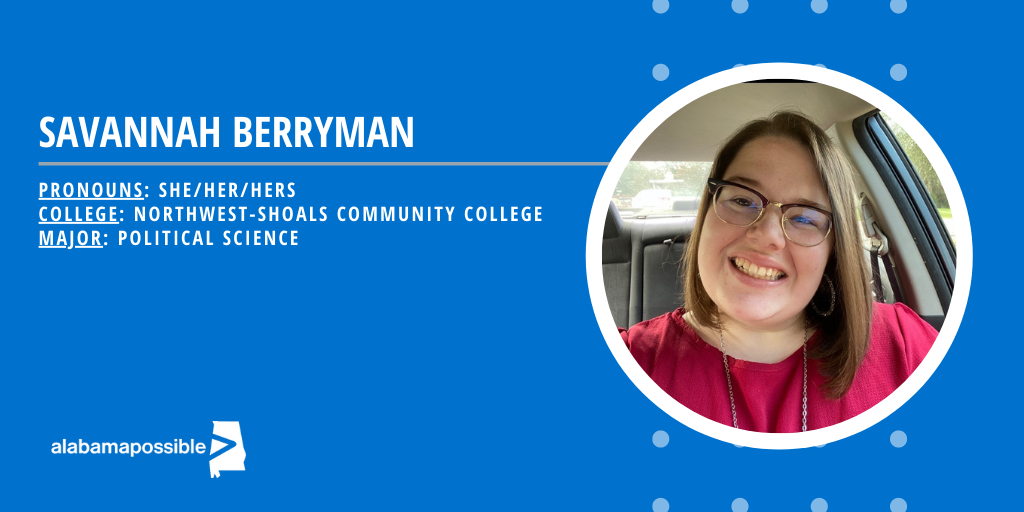 How do you get involved on your campus?
I serve as the President of the Alpha Zeta Iota Chapter of Phi Theta Kappa Honor's Society at Northwest-Shoals Community College (NW-SCC), which has allowed me the opportunity to serve on several committees and projects such as the ACCS ASPIRE 2030: Teaching and Learning and Student Success Committee, ACCN Spring 2020 Food Insecurity Project, and Alabama Possible's Break It Down: A statewide discussion on barriers to prosperity in Alabama. During my time at NW-SCC, I have also gotten the opportunity to serve students by working in both the NW-SCC Career Center and Student Support Services. I also serve as a peer mentor for two dual enrollment high school seniors at NW-SCC who were awarded the Greater Shoals Rotary District Grant.
What are you excited to learn and participate in during your fellowship?
One of my most significant personal endeavors while at NW-SCC is advocating for College Accessibility and College Affordability. I am so excited to be able to get the opportunity to advocate as a student fellow, all while attending training sessions to learn the most effective methods for Advocacy. Also, being a Political Science Major in hopes of one day possibly going to law school, I am very excited to get the opportunity to speak to congressional leaders about real issues facing college students today. That has always been a big dream of mine.
What is one thing you love about the state of Alabama?
Before changing majors to Political Science, I was planning on being a History Major. So it seems only fitting that one of the things I love the most about the state of Alabama is its history. Especially the history of specific individuals who were born in Alabama, such as Helen Keller, Harper Lee, Rosa Parks, and countless others.
Who is someone you admire and why?
The person I admire the most in this world is my dad. Growing up, I learned so much from my dad. He has always been such a role model in my life, but one of the most important life lessons he ever taught me that still impacts my life today is to "always do everything you can to the best of your ability." When I follow that principle, I never have to worry about whether I could have done more. It can give me a sense of satisfaction, but also of motivation. If I am going to do everything I can to the best of my ability, I will never give up. That lesson still impacts my life to this day, whether in my classes, relationships, or jobs. My dad has forever changed my life.