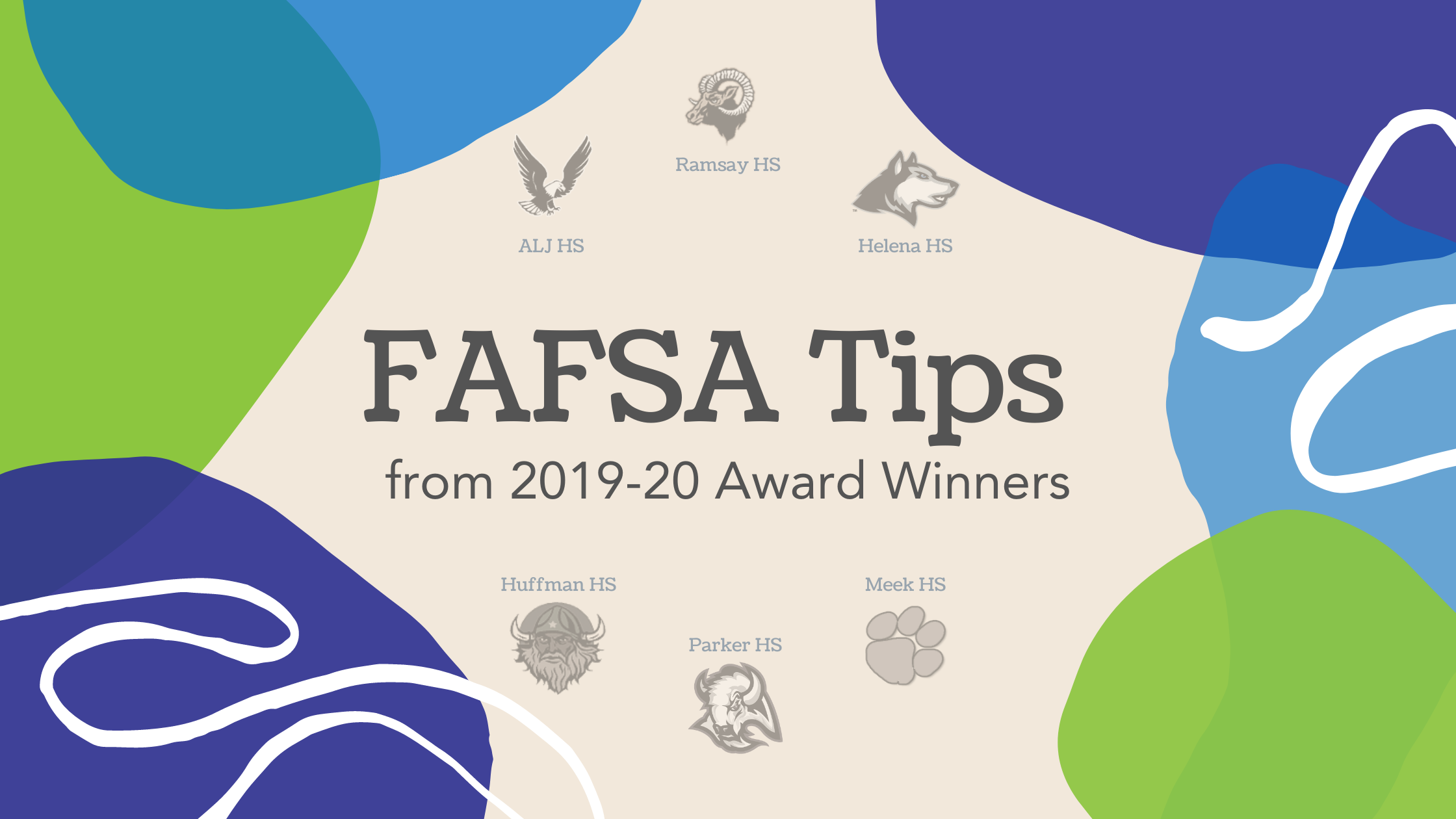 Last spring, educators had to pivot when the pandemic disrupted in-person learning and counseling. Although FAFSA completion plummeted when schools closed throughout our state and across the nation, educators began employing alternative methods of instruction and counseling in order to finish the year strong. During our end-of-year celebration, Cash for College Award Winners shared some lessons that they learned during the 2019-20 school year. We hope some of these tips will inspire your FAFSA completion initiatives for the Class of 2021.
1. Use prior-year data to set goals and plan events for the current year
At a professional development workshop, Counselor Bethany Jordan (Meek High School, Most Improved Small School 2019-20) reviewed prior year data and saw increases for other schools near the month of March, which is most colleges' priority deadline for financial aid. Seeing the data inspired her to do another big push during late winter and early spring.
Educators can use the Cash for College Data Dashboard to see up-to-date FAFSA completion progress, including year-to-year comparisons (Go to the School Detail tab, find your school in the dropdown, and view your progress). Educators can also use ACHE's FAFSA Completion Project to access student-level data. These online platforms let you track your students' and your school's progress so that you can coordinate with other staff and intentionally reach out to students who need more assistance or resources.
2. Discuss financial aid during relevant classes (e.g., economics and government)
Students at Helena High School (MVP Large School 2019-20) learned about the FAFSA during their government and economics classes. Career Coach Keyla Handley was able to reach every senior by visiting these classes and having conversations about financial aid relevant to students' coursework. Educators can use the Alabama Goes to College Lesson Plan which meets various content standards!
3. Emphasize the importance of timing (e.g., benefits of completing the FAFSA early in the year and while seniors have support from HS counselors)
Career Coach Keyla Handley (Helena High School, MVP Large School 2019-20) talked to students about the importance of completing the FAFSA long before graduation while they can get assistance and support from their counselors and career coaches. Even for students who plan to enter the workforce after graduation, encourage them to create their FSA ID now; this can be beneficial if they want to pursue a 2-year credential to enhance their workforce skills in the future.
In addition to maximizing support from high school staff, students should also start completing the FAFSA as early as possible in order to allow time for document gathering and processes like verification. Collecting the necessary documents might be especially tricky while offices are still closed or at limited capacity because of the pandemic.
4. Leverage partnerships with local colleges and banks (e.g., have a Financial Aid Officer host a FAFSA workshop)
Counselor Laterrius Christian (Parker High School, Most Improved Medium School 2019-20) worked with her district to coordinate FAFSA days with local stakeholders like UAB, Lawson State, Alabama A&M, and Regions Bank. By providing multiple sessions throughout the day (i.e., morning, afternoon, and evening), parents and guardians could select from a variety of options to accommodate their schedules. We recommend contacting your local college's financial aid office to request that they host virtual versions of these FAFSA workshops.
5. Incentivize students with rewards and celebratory events (e.g., tie FAFSA completion to prizes)
If students at Ramsay High School (MVP Medium School 2019-20) completed their FAFSA by a certain date, they could attend the fall festival. Former Counselor Alfreda Brown used incentives to motivate students; this event even caught the attention of juniors at Ramsay High. Incentives can be used to excite your seniors and reward them for all of the hard work required to pursue their postsecondary dreams. While you're only meeting virtually, celebrate your students by hosting an online dance party and letting them contribute to the playlist!
6. Communicate through multiple channels and engage parents/guardians (e.g., email, text, invite)
As many things have been moved online, we might feel inundated by digital communications. Find out what platform(s) work best for your students and families. Last year at Ramsay High School (MVP Medium School 2019-20), Counselor Brown used emails, texts, and the Remind platform to send key messages about financial aid and the FAFSA; she even texted families during tax season reminding them to keep up with tax documents they would need for next year's FAFSA. In-person communications involved cheerleaders creating large banners and the senior class president making daily announcements over the intercom.
Consistent messaging is key to ensure families are on board! Dr. Beverly Hackett, counselor at Huffman High School (Most Improved Large School 2019-20), hosted events specifically for students' families so that messaging remained consistent across the school and the larger community. Amelia L. Johnson High School (MVP Small School 2019-20) empowered families to take charge of their own FAFSA so their families felt equipped to complete the application each of the following years during college.
---
These 6 lessons mirror many of the themes we hear from counselors all across the state, as well as research across the country. We strongly recommend coordinating with your staff and leadership to incorporate these practices into your school's annual FAFSA campaign. For more resources, visit alabamagoes2college.org or email us at algoestocollege@alabamapossible.org. You can also call or text the Alabama Goes to College Help Desk at 334.316.6155.