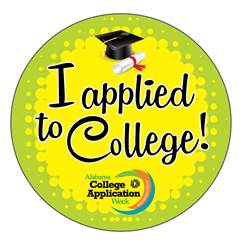 From Monday, October 29, to Friday, November 2, 2018, high school students in Alabama can apply to college for free thanks to College Application Week. 
College Application Week, a part of Alabama Possible and the Alabama State Department of Education's Alabama College Campaign, makes it easier for students across Alabama to continue their education after high school. 
Every Alabama high school senior can apply for free to more than 40 colleges during College Application Week. To apply to participating schools, visit the schools' website and locate their "Apply" page.  
Spread the word about College Application Week and tell your story about why applying to college is important using #WhyApply. Learn more about the American College Application Campaign here.  
Participating Alabama schools include:
Alabama A&M University
Alabama State University
Auburn University at Montgomery
Huntingdon College
Jacksonville State University (Promo Code: FREEWEEK)
Judson College
Marion Military Institute
Miles College
Selma University
Stillman College
Talladega College
The University of Alabama (Promo Code: AL18)
The University of West Alabama
Troy University (Promo Code: ALCAC2018)
Tuskegee University
University of Mobile (Promo Code: ALCAC2018)
University of Montevallo (Promo Code: ALCAC2018)

For schools outside Alabama that accept fee waivers, click here.