BIRMINGHAM, Ala. (July 24, 2017) – More Alabama students and families accessed financial aid to pay for college, ranking Alabama ninth nationally for its increase in Free Application for Federal Student Aid (FAFSA) applications over the past year.
According to the National College Access Network (NCAN), 14.44 percent more Alabama high school seniors filed their Free Application for Federal Student Aid (FAFSA) during the 2016-17 school year than during the 2015-16 cycle.
"The FAFSA is important because it is how students and families access money to help pay for college," said Kristina Scott, executive director of Alabama Possible. "College is expensive, and by completing the financial aid form, students can access grants, scholarships, work study opportunities, and loans."
As of June 30, 2017, more than 14 million students across the United States filed their FAFSAs during the 2016-2017 cycle, which is a 6 percent improvement over last year. In the 2016-2017 cycle, 28,538 Alabama high school seniors completed the FAFSA, compared to 24,938 high school seniors who completed the form in the previous cycle.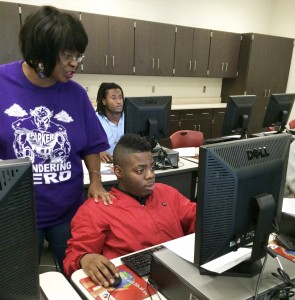 "This increase is a testament to the hard work of educators around the state who create a college-going culture. By 2020, 62 percent of jobs in Alabama will require postsecondary education, and the FAFSA can help students and families pay for college," said Sean Stevens, school counseling coordinator at the Alabama State Department of Education.
Students can use financial aid at a wide range of academic and technical education programs leading to degrees and certificates at two- and four-year colleges. In Alabama, 60 percent of students who file the FAFSA qualify for Pell Grant aid of up to $5,920 each year. According to the U.S. Department of Education, 9 out of 10 students who complete a FAFSA attend college the following fall.
Students can still submit the FAFSA. Recent high school graduates who need assistance with the form can visit Alabama Possible's Cash for College Drop-In Center at Southside Baptist Church, 1016 19th St S, Birmingham, AL 35205. At the Center, volunteers assist students as they prepare for their first semester of college. The Drop-In Center is free, and it is open weekdays from 10 a.m. – 3 p.m. until August 4, 2017.
For more information about Cash for College and the FAFSA, visit cashforcollegealabama.org.
Above: A student at Birmingham's Parker High School works with School Counselor Rhonda Fowlkes to complete his FAFSA.