By April Davis, AmeriCorpsVISTA
Hunger is not a rite of passage. Yet nearly half of college students face the risk of hunger, according to the study Hunger on Campus.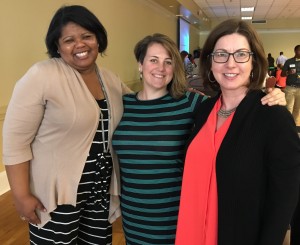 "These students are not the archetypical 'poor college student,' who spend too much on beer and live on Top Ramen. Their hands shake because they have not eaten in two days," said College and University Food Bank Alliance Co-Founder Clare Cady at February's Hungry for Justice summit co-sponsored by Alabama Possible and Troy University.
Nearly 100 students, educators, and community partners convened at Troy University's Montgomery campus to examine and learn how to address food and housing insecurity on Alabama's college campuses.
Cady and Kennesaw State University CARE Center Director Marcy Stidum began the day with an interactive workshop which guided attendees through creating and sustaining campus food programs by setting goals, identifying resources, and utilizing research. Stidum emphasized planning for sustainability from the outset.
"You must know your campus, know your resources, and understand your limitations," said Stidum.
She recommended Lumina Foundation's Beyond Financial Aid toolkit, which equips two- and four-year institutions assess their capacities to support low-income students beyond traditional financial aid.
Cady stressed the importance of involving students in campus food programs because "student power is the best power!"
During lunch, an AmeriCorps volunteer and students from Troy University, Auburn University and The University of Alabama shared what they learned from their involvement and experience.
"Setting goals and having planned steps cannot be emphasized enough," said Hallie Nelson, former president of Auburn's Campus Kitchen Project.
The emphasis on student advocacy continued after lunch, when students led roundtable presentation about their campus-based service, research, and advocacy.
Auburn Students Abigail Binion and Veronica Vichi-Miller are researching the prevelance of hunger on the Auburn campus and said "it surprised us."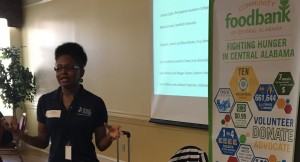 "A lot of college students do not understand that they may qualify for the Supplemental Nutrition Assistance Program (SNAP)," said Samford social work graduate student Misha Streater, an intern at the Community Food Bank of Central Alabama. 
Alabama State University Geography Students Deron White and LaMonte Patterson presented their research on location and poverty, which used an online map to highlight food deserts and neighborhood disparities in Montgomery.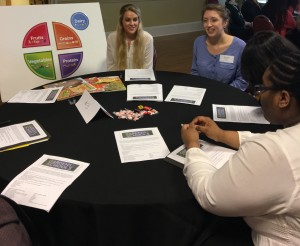 Other students talked about their work with Auburn's Campus Kitchen, Troy University's Campus Kitchen and elementary school garden project, and Birmingham-Southern's partnership with the Blueprints College Success Initiative.
The conference concluded with discussion groups that reported takeaways from the conference and their discussion. The student discussion group wanted to broaden safe places by reducing the stigma surrounding food insecurity and hold institutions accountable for not addressing the issue. To do this, they agreed to openly about how many students are at the risk of hunger. Educators reported that they will normalize the conversation surrounding food issues and focus on a relational approach with students. To accomplish this, they will talk more openly to their peers and students about the issue and give their students individualized attention.
Auburn University Director of Public Service Ralph Foster said that "we need to rethink the way we present our resources instead of 'referring' students if they have a 'problem' .
Photos, from top:
Marcy Stidum, Clare Cady, and Alabama Possible Executive Director Kristina Scott following the morning keynote workshop.

Samford University Masters in Social Work Student Misha Streater talking about her work as a SNAP outreach intern at the food bank.
Troy University students talk about their work using school gardens to teach elementary school students about nutrition.