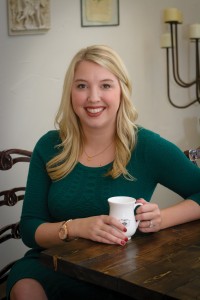 Your generosity breaks down barriers to prosperity for more than 900,000 Alabamians – including 300,000 children – who live in poverty. Thank you for building a stronger Alabama.
Ending poverty seems like such an overwhelming problem. Where do we start?
"First, by bringing the incredibly diverse group of Alabamians who want to help to the table," said Alabama Possible Board Member Nicole Bohannon Hampton (pictured right).
Nicole first got involved with Alabama Possible as a first-year student at The University of Alabama, as she sought to help students from her hometown who did not have access to counseling, financial aid, and ACT/SAT preparation.
"I was an 18-year-old trying to figure out how to serve my hometown of Sheffield, Alabama. Instead, I learned how to address some of our state's biggest challenges and why these challenges exist in the first place," said Nicole.
Will you give to Alabama Possible and help others like Nicole build a more prosperous Alabama?
When Nicole realized that students all over the state faced these barriers, she partnered with Alabama Possible to create the Blueprints College Success Initiative, which has worked with more than 4,000 low-income, minority, and first-generation college-going students.
"We had to bring people from different backgrounds and different parts of the state to the table to alleviate that challenge not just for students in my hometown, but for students all over Alabama. This is one of Alabama Possible's unique strengths," she said.
Your gift to Alabama Possible breaks down barriers to prosperity by educating Alabamians about poverty in our home state and collaborating to boost educational outcomes. In doing so, you will bring more people to the table and advocate for a more prosperous Alabama.
"Now, more than ever, that's the only way to bring systemic, cultural change to our state," said Nicole, who now practices law in Tuscaloosa.
Will you support Alabama Possible with a tax-deductible gift of $1,000, $500, or $250? Any investment makes a real difference.
Giving is easy. Visit alabamapossible.org/donate and give online. It is safe and secure.
When you give, you are performing a service for our more than 900,000 neighbors – including 300,000 children – who live in poverty. Thank you.