May 10th, 2012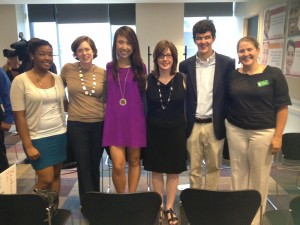 One of the unique qualities of our Blueprints College Access Initiative is that it is youth-driven.  Nicole Bohannon started the program while a freshman at the University of Alabama, college students deliver services as "near peer" Blueprints mentors, and our program staff serves as "near peer" mentors for both the mentors and the high school students.
It is also youth-funded.  On Tuesday night, the YouthServe Youth Philanthropy Council made a $14,720 grant to Blueprints.
The Youth Philanthropy Council involves young people, ages 15-18, in the learning and giving aspects of philanthropy.  Thanks to the generous support of the Joseph S. Bruno Foundation, the youth have $20,000 which they can use to financially support local nonprofits.
These young philanthropists wrote their own RFP and reviewed the submitted grants.  They did site visits, and were full of interesting questions.  Then they debated which applicants should receive funding.
The Southern Region State Farm Youth Advisory Board previously awarded a $10,000 grant to Blueprints.
YPC Member Shanna Liu, a senior at Vestavia Hills High School who will attend the University of Texas at Austin in the fall, presented the check to us.  She did an incredible job explaining why Blueprints was a good fit for their giving goals.  I asked Shanna to share her remarks, and here they are:
Good evening everyone and thank you for coming to this award ceremony. Tonight, the Youth Philanthropy Council has the privilege of recognizing an extremely deserving organization that not only seeks to improve the Birmingham area but also strives toward bettering humanity.
In 1993, a group of citizens concerned with the level of poverty in Alabama created the Alabama Poverty Project in order to reduce what has descended the state to the third poorest in America. Their mission is to provide leadership in education in order to eliminate poverty. In an effort to accomplish their mission, APP has created the Blueprints College Access Initiative, which is a direct service-learning experience for low-income high school students, giving them the opportunity to receive college access counseling and mentoring from college students. Through Blueprints, students learn about important aspects of the college application process, such as financial aid, career and college options, and interview and resume skills. The Initiative has also assisted students in raising ACT scores by 2 to 3 points, providing results similar to that of nationally recognized preparation programs like Princeton Review and Kaplan. Additionally, students have the opportunity to build relationships with actual colleges, as Blueprints connects high schools with universities and conducts campus tours for the participants. Examples of such significant partnerships include Holt High School with the University of Alabama, Francis Marion High School with Alabama State University, and Woodlawn High School with the University of Alabama at Birmingham.
YPC chose to award the grant to the Blueprints program because not only does it significantly meet all three of our grant-giving criteria – education, elimination of poverty, and focus on youth – but it also fulfills the underlying purpose our entire council: philanthropy. Philanthropy is the active action towards achieving a positive goal, and Ms. Kristina Scott and all of Blueprints' staff has done everything in their ability to bring that goal into fruition. They are not only driven by their desire for change in Alabama, but they are also motivated by the inspiration of the children they are able to affect, the children whose lives are forever impacted by the program. Many students in these low-income communities do not dream of college nor even realize it as an option. However, Blueprints makes certain that the kids understand their potential and realize that college is both affordable and accessible.
By targeting the foundation of our society, Blueprints and Alabama Poverty Project has carved a path for youth toward better education that can only elevate Alabama for future generations. Thus, in honor of their relentless effort in promoting education and reducing poverty, the Youth Philanthropy Council awards a check in the amount of $14,720 to the Alabama Poverty Project's Blueprints College Access Initiative. 
We are so pleased to join with Alethia House as recipients of the 2012 Youth Philanthropy Council grant funds.  Thank you to these incredible young leaders.