July 24th, 2013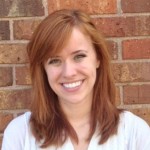 Birmingham native Ginny Cooper graduated in May from APP Cornerstone Member The University of Alabama with a major in English and a minor in French.  She will be working with APP's Blueprints College Access Initiative.
Why did you major in English?
I could never imagine doing anything else. I love to write, read, and analyze literature, and I think I was one of very few people to get giddy just looking at the syllabus for each semester.
What hobbies do you enjoy?
I love to read, rock climb, and go to the lake.
What is your favorite thing about Alabama?
I love how many different activities are just a few hours drive away in Alabama—you can go from the beach to the mountains in just a few hours.
Why did you decide to serve as an AmeriCorps*VISTA?
Though I want to go to graduate school in the future, I knew I needed a few years break from school so I started looking into short-term opportunities. In addition, I've always felt that the most satisfying careers are those centered on helping others, so when I found out about the Americorps*VISTA program from a professor, it seemed like the perfect fit.
What will you be working on during your VISTA term at APP?
I am a project coordinator for the Blueprints College Access Initiative.
What is your vision for Alabama ten years from now?
Through the work of Alabama Possible and other like-minded organizations, I envision a state in which every child has access to a phenomenal education and nutritious food so that this state can live up to its potential!