December 26th, 2014
Dear Friends,
2014 has been another banner year for Alabama Possible. People like you – and their faith communities – invested $34,543 to support our work. We are more than 80 percent of the way to our goal of $43,000. Thank you!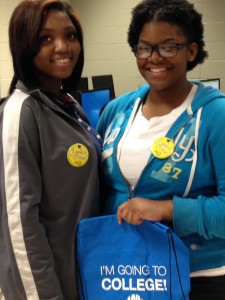 Some of the highlights included:
* All 289 members of the Blueprints College Access Initiative's Class of 2014 earning admission to college and more than $6.2 million in supplementary scholarships. Our partner high schools also saw a 41 percent growth rate in Free Application for Federal Student Aid (FAFSA) completions from 2013 to 2014. Thank you for opening the door to postsecondary education.
* Giving more than 1,000 Alabamians a chance to understand the realities of poverty through theCommunity Action Poverty Simulation, which gives participants a window into the emotional toll and frustration that individuals living in poverty face. Thank you for teaching us poverty isn't a game.
* Boosting summer lunch participation through the End Child Hunger in Alabama campaign by increasing the number of sites by 40 percent and serving 30 percent more meals. Thank you for ensuring 184,000 children had access to a regular source of nutrition during school breaks.
We are immensely grateful to partners like you for investing in the possibility of an Alabama without poverty. With God's help, we have the power to make that dream a reality.
We have just five more days to raise $8,457. Please ensure that we have the resources to continue our work together by making a contribution today.
Thank you,

Kristina Scott, Executive Director
Alabama Possible