August 9th, 2015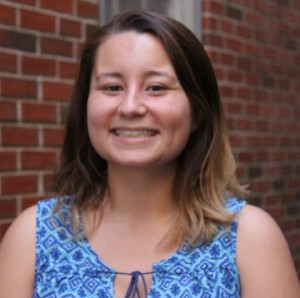 1. She was born in Japan.
I was born in Okinawa, Japan. My father was in the military, and my mom is from Japan. When I was younger, we moved around quite a bit. In total, we lived in mainland Japan, Mississippi, Texas and then we moved back to Japan. In 2007, we moved to Prattville, Alabama, and that's where I started high school. I graduated from Prattville High School in 2011 and went on to study at the University of Alabama at Birmingham (UAB). During my time at UAB, I have explored several majors, eventually deciding on music as my primary focus. I graduated from UAB on August 8.
2. She's ready to learn about nonprofit work
At the end of August, I will start working on my master's in public administration (MPA) at UAB. After I complete my MPA, I plan to pursue a career in nonprofit management. I think that my time at Alabama Possible will help prepare me for the nonprofit sector, and I also think that my experience at the organization will help me grow as a person. Moving forward, I want to promote Alabama Possible continuously, because I think that the organization is having a strong impact in the Birmingham community.
3. She'll be working with the Blueprints College Access Initiative
The primary goal of AmeriCorps*VISTA is to eliminate poverty, which is why Alabama Possible is such a natural partner. In working to break the cycle of poverty, Alabama Possible focuses on helping students access college through Blueprints and Cash for College. I am very excited to support the programs."
4. Education is very important to her
Education has been an important part of my life. Throughout my entire high school experience, I was focused on attending college. I know that some students need additional support about how to access college and be successful once they arrive.
5. She has brains and brawn
I really like running. I'm training for a half-marathon, which has been a lot of hard work. While I enjoy being physically active, I also find a lot of joy in reading. At the moment, I'm reading more faith-based books, and I'm about to start reading Paper Towns by John Green.
6. She loves Birmingham
UAB brought me to Birmingham, and the people and opportunities are what kept me in the city. I think that Birmingham has a lot to celebrate, and I am excited about the growth. I love the local food and the farmers' markets here.
7. She has always been involved in service work
I have always been service-oriented. In high school, I joined several service organizations, which is what inspired me to participate in the Global and Community Leadership Honors Program (GCL) at UAB. During my time at GCL, I participated in several service-learning activities, and I volunteered at a variety of events. I also had an internship with the Black Warrior River Keeper, an environmental nonprofit.
8. Her professor inspired her to join the AP staff
Kristina Scott, executive director of Alabama Possible, talked about the organization a lot when she was teaching for GCL. At the time, I found it interesting, but I wasn't able to volunteer or mentor with the organization. Thankfully, I discovered the AmeriCorps*VISTA position, so I immediately applied.
9. She is ready to move Blueprints forward
Blueprints is the program that I will be supporting through Alabama Possible. I will be working in Birmingham and Tuscaloosa City schools, which are both great school systems. Last year, two Woodlawn students were awarded Gates Millennium Scholarships. I hope to see the same type of success in the schools that I will be working in.
10. She's a musician and loves to go see shows.
During my UAB experience, I performed in the band, and, for two years, served as section leader. I also served as vice president for special projects and president for Tau Beta Sigma, a band service sorority. I really enjoyed band. I cannot imagine my college experience without it. I'm also an avid concertgoer. While living in Birmingham, I have seen Andy Grammer, Snarky Puppy, Dave Matthews, Echosmith, Ingrid Michaelson, Neon Trees, Michael Franti, Pentatonix and many Alabama Symphony Orchestra concerts.