July 6th, 2012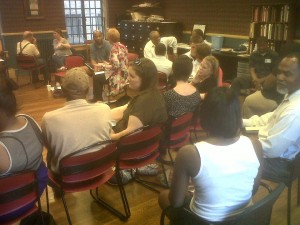 Poverty reduction is built on the foundation of strong communities. In order to learn more about building community power, APP Summer Interns Ashley Rhea and Gabriela Sherrod and AmeriCorps*VISTA JT Moore attended Birmingham Faith in Action leadership training seminar held over the course of two evenings last week.
Birmingham FIA Executive Director Quinn Rallins started the training by explaining that his job as a community organizer is to develop leaders.  Leaders are people who have, develop, and listen to followers.
Quinn focused on the listening component of leadership, and segued into the distinctions betweenselfishness, selflessness, and self-interest. Selfishness is a concern for self while excluding others, selflessness is concern for others while excluding self, and self-interest is concern with self in relation to others.
A leader must listen to the self-interests of others—whether they are selfish or selfless—in order to organize others and make change. Progress is often hindered by conflicting self-interests, and when a leader understands the various points of view, compromise and progress is possible.
The second day of leadership training dealt with the single tool that a leader needs in order to change a community: power. Without power, a leader lacks credibility and respect, which hinders him from enacting change.
Birmingham FIA has a four-step model for power:
1. Listening.  A leader must listen to a community's concerns. Listening is not simply speaking with a few community leaders to get an idea of the problem; rather, Quinn suggested hundreds of one-to-one conversations with the community in order to gain a deep understanding.
2. Research.  A leader must systematically research the problem, which could include reading reports, speaking with experts, and meeting with elected officials.
3. Public Action. Once the leader fully understands the problem, he can begin his public action for change, while keeping in mind the community's self-interests.
4. Reflection. Once efforts for change have either succeeded or failed, the leader must reflect on its triumphs, shortcomings, and potential improvements.
Ashley, Gabriela, and JT left the training invigorated.  Ashley said, "Leadership starts from the bottom up. If you want to see change in your community, listen to your followers. It's all about relationships. That's definitely a change in thinking for me!"
"I had no idea that community organizing was such an art form," Gabriela said, "The training gave concrete suggestions for how to lead effectively, and these strategies can be applied to any endeavor, large or small."
"This training helped me realize that community organizing is not as simple as 'Just add water.' It takes individuals who are passionate about people, dedicated to the greater good of the community, and willing to do what is necessary to bring about change," said JT.
Birmingham Faith in Action was organized in 2011 to build a better Birmingham by working to ensure skilled, committed, leaders of faith can effectively organize on issues of concern in their communities and to build relational power across racial, denominational, and regional lines.