December 18th, 2013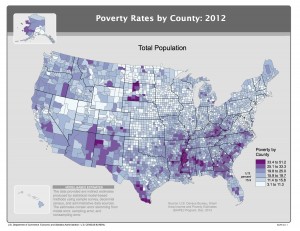 New statistics from the U.S. Census Bureau find that the number of people living in poverty in the State of Alabama remained virtually unchanged last year, but according to a new analysis by Alabama Possible, the 2012 Small Area Income and Poverty Estimates (SAIPE) tell a mixed story about poverty and median household income in the state.
The U.S. Census Bureau defines the official poverty threshold for a family of four containing two related children under the age of 18 as $23,283. The new SAIPE results, which were released on Thursday, December 12, find that Alabama is the seventh poorest state in the country with a statewide poverty rate of 19 percent; virtually unchanged from 19.1 percent in 2011.
However, Alabama Possible notes that when compared to the 2007 survey, poverty in the state remains well above pre-recession levels (16.6 percent). During the same 5-year time period, poverty increased in 56 of Alabama's 67 counties. The increase was statistically significant in 19 counties, according toCensus Bureau analysis. Five counties – Conecuh, Dallas, Marengo, Tallapoosa, and Winston – saw increases of more than 5 percent.
Alternatively, the median household income in Alabama grew during the same period. In 2012, Alabama's median household income was $41,610, or $1,014 more than it was in 2007. At the county level, 42 counties saw increases in median household income from 2007 to 2012. The biggest increase was in Coffee County, which saw an $8,812 increase from $36,819 in 2007 to $45,631 in 2012. Of the 25 counties that experienced decreases in median household income, Talladega County had by far the largest, from $38,644 in 2007 to $34,785, or a decrease of $3,859.
"While it is disappointing that our poverty rate continues to be one of the highest in the nation, the increase in median household income may be a sign that more families are moving from meeting their basic needs to being economically secure," said Kristina Scott, executive director of Alabama Possible. "Alabama has been working hard to increase career jobs and boost educational attainment. In particular, investments in education can take years, if not decades, to pay off in reduced poverty rates. However, they are crucial to ensure that our state can and will meet its tremendous potential."
The Small Area Income and Poverty Estimates (SAIPE) combine data from administrative records, postcensal population estimates, and the decennial census with direct estimates from the American Community Survey to provide consistent and reliable single-year poverty estimates.