March 19th, 2012
Only 20 Percent Of Alabama High School Seniors Completed FAFSA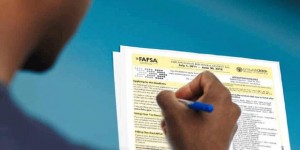 Birmingham, AL- The U.S. Department of Education last week unveiled a new tool to help high schools better track how many students are completing federal financial aid forms.
School and local leaders can now track how many students in each high school across the country are submitting and completing the Free Application for Federal Student Aid (FAFSA) on the new FAFSA Completion Tool website, http://federalstudentaid.ed.gov/datacenter/fafsahs.html
Only 9,893 out of 49,510 Alabama high school seniors, or 19.98 percent, completed the FAFSA as of March 13, 2012. Previously, high schools estimated their FAFSA completion rate using self-reported surveys, which are typically unreliable.
Research shows a strong correlation between FAFSA completion and college enrollment.
"FAFSA completion helps students and their families access federal and most state financial support, including grants, scholarships, the lowest-cost student loans and work-study opportunities. The federal deadline for completing the FAFSA is June 30; however, many colleges' priority deadlines have already passed," said Kristina Scott, Executive Director of the Alabama Poverty Project.
Alabama's median household income is $9,508 less than the national average. According to the Southern Education Foundation, 60 percent of that gap is due to Alabamians' low educational attainment. For every dollar earned by individuals with bachelors degrees, high school dropouts only earn 32 cents and high school graduates only earn 51 cents.
College graduates elevate their personal earning capacity and bring nearly $1 million in spending power back to their local communities. Educational attainment is also a key factor in employers' site location decisions, which in turn can create a healthier economy statewide.
The FAFSA Completion Tool will be updated every two weeks.
About the Alabama Poverty Project (APP):
Alabama is the nation's third poorest state. Nearly 19 percent of Alabamians – and more than 27 percent of children – live below the poverty line. The Alabama Poverty Project (APP) is a nonprofit resource center that mobilizes Alabamians to reduce poverty via strategic partnerships with higher education institutions, community partners, policymakers and faith-based organizations. Founded in 1993, APP equips Alabamians to increase college access, fight hunger through learning and service, and one day end systemic poverty in Alabama. For more information, visit http://www.alabamapossible.org