June 13th, 2014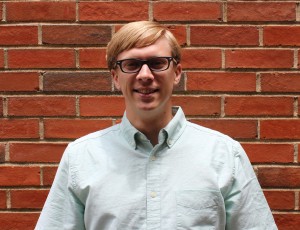 Next up in our 'Meet the Interns' series is Reeve Jacobus. Reeve is a senior philosophy major at AP Cornerstone Member Birmingham-Southern College. He is a native of Ridgeland, Mississippi and comes to us this summer as a Hess Fellow after serving as a Blueprints student liaison to the Bunting Center at BSC.
You grew up in a suburb of Jackson, Mississippi. Are there any striking differences between where you grew up and your environment in Birmingham?
There really aren't many differences between Jackson and Birmingham. I always tell people that Birmingham is just a bigger Jackson. Because of that, it's really been a smooth transition overall; it still feels like home to me. I think Jackson is trying to learn from Birmingham and the renaissance that has taken place here; I hope it can be just as successful in reinventing and modernizing as Birmingham has.
Do you have a favorite book?
All the Names by Jose Saramago.
You have lived in Birmingham for three years now. What are some of your favorite places to eat?
I'm a pizza snob, so my two favorite places are Slice and Davenport's.
Favorite TV shows?
In order, my favorite shows are House of Cards, Colbert Report, and Modern Family. My guilty pleasure is C-SPAN.
Why did you choose philosophy as your major and how do you hope to use it?
I chose to major in philosophy for three reasons. First, I really enjoy thinking about questions that have been at the center of philosophy for thousands of years. I get tickled thinking about questions of existence and free will. But preference is not enough to devote your college career to a discipline, so I also chose philosophy because of its interdisciplinary scope. It can comment on many other disciplines that interest me, including but not limited to global justice, ethics, poverty, and dignity. So I am able to investigate the issues behind these in my philosophy degree. Lastly, philosophy seemed like a good call because of its practical applications. Yes, most people think the question a philosophy major needs to learn is "WHY you want fries with that," but there actually are practical applications in a philosophy major. Those who participate learn how to write well, how to think critically about problems, and how to conceptualize complex material. Those are three skills that are highly sought after in today's job market.
How did you get involved with Alabama Possible?
I attended a QEP (Quality Enhancement Plan) event at BSC, which led me to the wonderful Bunting Center. Emily Thornton helped me find an organization that fit with my interests, and soon after, I became a student liaison for the spring semester.
What do you plan to do after graduating from college?
I plan to go into international development. It's very similar to nonprofit work such as Alabama Possible, except on a global scale and with a lot more economics and politics.