June 21st, 2012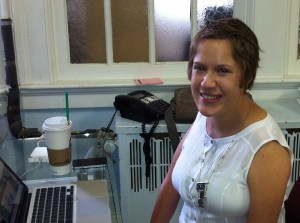 Ashley Rhea is a rising second year law student at the Cumberland School of Law, part of APP Cornerstone Member Samford University.  Ashley is a native of Vestavia Hills and a graduate of APP Cornerstone Member Birmingham-Southern College, where she majored in political science.
We sat down with Ashley for an introductory conversation.  Here's what she had to say:
You're a second year law student at the Cumberland School of Law at Samford. Why did you decide to go to law school?
"I had always had the idea in my head, so I took a course on constitutional history at Birmingham-Southern. It had a lot of pre-law material, and I thoroughly enjoyed it. I loved reading briefing cases and digging through historical facts. After that, I took the LSAT, applied to schools, and here I am!"
What kind of law do you want to pursue?
"I would love to do public interest work advocating for people with disabilities. I think it's the best of both worlds—it combines intellectual legal endeavors with altruistic civil rights and advocacy."
How did you get involved with Alabama Possible?
"I received an e-mail about the agency needing a law and policy intern. I had heard Kristina Scott speak before, and I thought the work that the organization did was wonderful, so I couldn't pass up the opportunity. I think my desire to work with APP stemmed from the fact that I am interested in special education and its effect on low-income families. I've been exposed to learning difficulties in this community before, especially through my past work with Impact Alabama. Working with APP just seemed like another way to learn all I could about education in Alabama."
What is your favorite movie?
"I have two favorite movies. I absolutely love Forest Gump. It's such an epic story, and it intertwines fiction and history so perfectly. I would watch it over and over as a kid. My other favorite movie is Precious. It's really influential, powerful, and thought provoking."
Are you reading any books right now?
"I'm actually reading a book that I bought specifically because I knew I would be working at APP over the summer. It is called A People's History of Poverty in America by Stephen Pimpare. It isn't a truly difficult or academic read, but it's really interesting."
 If you could be any beverage, what would you be?
"Green tea! I don't drink it a lot, but when I do it is very soothing and earthy."
 What is one issue in education that you would like to see changed?
"I'm especially worried about the fact that our economy is rapidly changing into a service-based economy, but our education system has remained the same. We're not preparing our children and eventual workforce to be competitive with the rest of the world, and that's a disservice to both our children and our country as a whole."