August 29th, 2012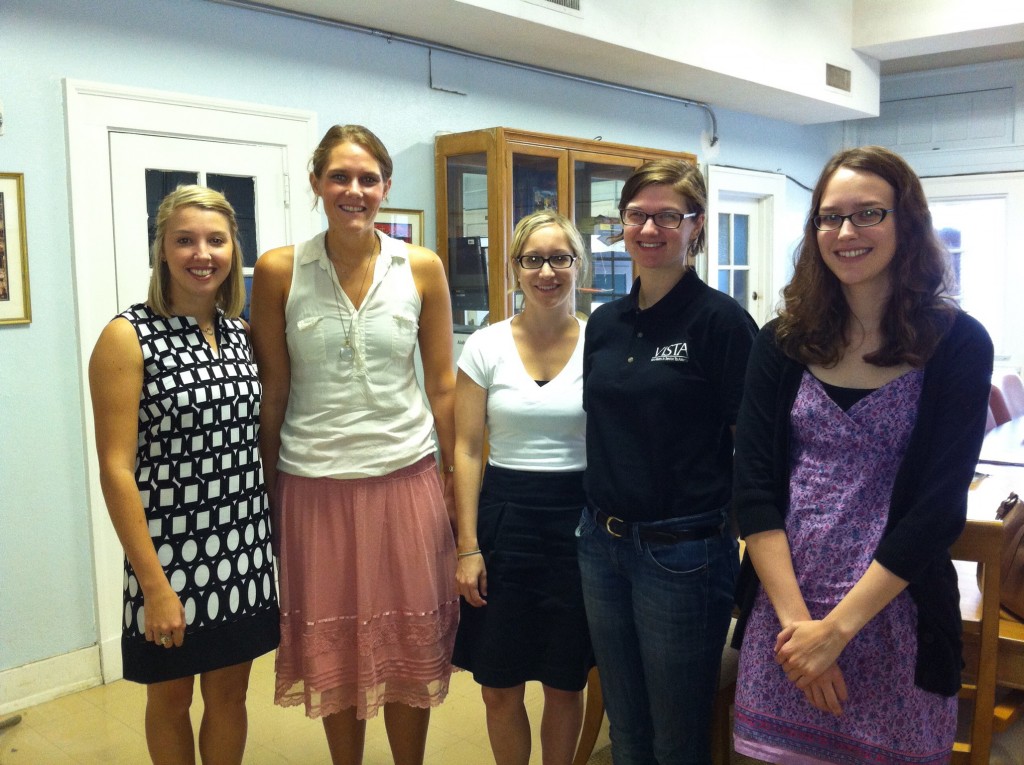 AmeriCorps*VISTAs are a vital part of our work.  We are thrilled to announce our AmeriCorps*VISTAs for the 2012-13 cycle: Kevi Martin, Elizabeth Clark, and Courtney Bennett. Kevi, Courtney and Elizabeth work with the Blueprints College Access Initiative, which connects high school students and their families with resources and relationships so they are equipped to graduate from high school college- and career-ready.
KEVI MARTIN
Kevi Martin, a native of Fayetteville, Georgia is a May 2012 graduate of Agnes Scott College. Kevi will work with students at Phil Campbell High School and Birmingham's Woodlawn and Jackson-OlinHigh Schools.
What do you hope to gain during your year working with Blueprints?
First, I want to better understand the nonprofit world and how it works. Second, I hope to see changes made towards a better educational system for the students and for the schools themselves. It's going to be extremely rewarding as I go school to school each day and help the kids, but making schools more "educationally sustainable" is just as important.
What effect did attending a women's college have on you?
It completely changed my life. I grew up in a world where women's issues were not discussed. My first week of college changed all of that. I became aware of privileges lost to women – and to all minorities. It ultimately made me realize how much more there was to the human rights movement, and that I want be a part of it.
You worked at a domestic violence center during college. How does your interest in domestic violence issues influence the way you approach your work with Blueprints?
I think it has given me many tools to work with those living in poverty. Ninety percent of the women I worked with at the Women's Resource Center lived in poverty. I learned how to communicate with and assist them, while they taught me a great deal about life.
What is something unique about you?
I am a six-foot-three woman
ELIZABETH CLARK
Elizabeth Clark moved to Birmingham from her native West Virginia in late 2010. Elizabeth earned her bachelor's degree in accounting and her law degree from West Virginia University. She fell in love with the nonprofit world through her work with the Birmingham Volunteer Lawyers Program.
Elizabeth will work with students at Hillcrest High School in Tuscaloosa and Holy Family Cristo Rey in Ensley.
What interested you about Blueprints?
I have always been interested in working in higher education. I want to explore the issues students pursuing postsecondary education face, as well as the issues institutions of higher education face in educating and preparing students for life after school in today's competitive global economy. Blueprints allows me to merge my interests in nonprofit work, higher education, and educational access issues.
Talk about a challenge that you overcame during the college application process.
I was blessed to have extremely supportive but practical parents. They were very supportive of my college aspirations but always emphasized the importance of analyzing the cost of a school. They strongly encouraged I attend an in-state school, because it was cheaper. At the time I was trying to decide between an in-state school and a more expensive out-of-state school. Although I resented it at the time, I am glad my parents pushed the in-state school because I was able to graduate debt-free. Having little to no debt after graduation allowed me to pursue my career interests without worrying about a loan payment.
What is something unique about you?
I like to cook (and eat!) Thai and Indian food.
COURTNEY BENNETT
Anniston native Courntey Bennett will work with students at Francis Marion High School andMontevallo High School. Courtney is a December 2011 graduate of APP Member University of Montevallo.
What interested you about Blueprints?
Dr. Hollie Cost, a professor at the University of Montevallo with whom I have worked on projects such as ValloCycle: the Montevallo Bike Share and the Montevallo Artwalk, told me about this position. I am most excited about the opportunity to strengthen the connection between the University and the City of Montevallo by growing existing initiatives and creating new ones.
What do you hope to gain during your year working with Blueprints?
I hope to strengthen my teaching skills and learn about the communities in which I will work, especially Montevallo, where I have lived for 5 years. My greatest hope is that I help empower young people during my year of service.
Your family is from Anniston. What is keeping you in Montevallo?
I've experienced a close-knit sense of community in Montevallo that I never felt in my hometown. Montevallo is much smaller, and I have had ample opportunities to get to know my adopted community better than the one in which I grew up. Anniston is close enough that I can visit my family whenever I like. Family is very important to me, and it would have been much more difficult for me to stay here if that were not the case.
What is something unique about you?
I enjoy creating beautiful things out of reclaimed objects: clothing alterations, up-cycled jewelry, throw pillows, quilts, you name it!