September 26th, 2012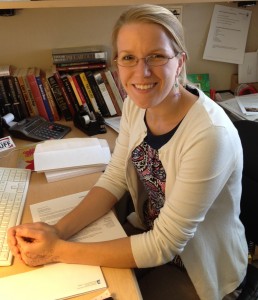 Eva Walton recently joined APP as its new Program Manager.  She helps facilitate APP programs, including Blueprints, our Higher Education Alliance, and our Faith Partnership, and manages daily operations.  We recently sat down with Eva to learn a little more about her.
Eva is a sixth-generation Alabamian and is originally from Mobile. She earned her bachelors degree in Southern studies from Mercer University.  She graduated in May from the University of Mississippi with a masters degree, and  she won the Lucille and Motee Daniels Award for the best thesis in Southern Studies.
What interested you about APP and why did you decide to accept the position?
During my studies it became clear that the study of southern history and culture are intimately intertwined with the study of poverty. The APP offered me the challenge of bridging what I know about the history and causes of systemic poverty in Alabama with the work APP and our partners are doing to change the culture of systemic poverty in the state.
What person/event influenced your decision to enter the nonprofit world? 
I continue to be influenced by the culture of service-learning and volunteerism I encountered during my undergraduate studies. Mercer faculty challenge their students to balance research and academic pursuits with service in the community.
What do you think is biggest barrier faced by individuals trying to break the cycle of poverty in Alabama? 
I believe that statewide legal, social, and economic power structures are the biggest barriers to breaking cyclical poverty in Alabama.
What is something unique about you?
I adore Wendell Berry's essays, novels, and poems. His texts are the largest single-author section of my personal library.