February 17th, 2011
We talk a lot about reciprocal, relationship-based service as a way to increase educational attainment and fight poverty. Our Higher Education Alliance does this through service-learning with local schools, our faith partners do it through relationship-based ministry, and our community partners do it through community service and volunteerism.
For our Alabama Possible Spotlight this week, we're focusing on a literacy program in Birmingham providing one-on-one tutoring to help second graders read at grade level. It's a great example of how mentoring and community service can combine elements of relational ministry, community engagement and best practices from the education world.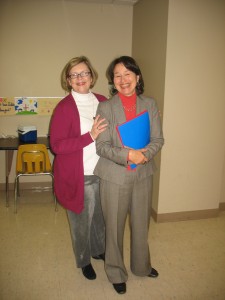 Evelyn Puckett, STAIR IPC site director, with Anna James, STAIR executive director
The STAIR (Start the Adventure in Reading) program, based at Independent Presbyterian Church in Highland Park, Birmingham, pairs two adult mentors with one student during their second grade year. Each mentor commits to working one afternoon a week with the students who attend Birmingham city schools.
IPC has hosted the program for 11 years, and STAIR has now expanded to 5 sites serving 6 elementary schools. Partners include 45th Street Baptist Church, Avondale United Methodist Church, and Greater New Antioch Baptist Church. The program is not religiously focused, but program director Anna James says churches make good sites because "they have a good pool of volunteers and great facilities."
Why second grade? "Second graders are so open-hearted, affectionate, and curious, and second grade is really their last chance to master reading," says Evelyn Puckett, STAIR site director. "These kids come to us having tested below grade level, and our goal is to get them reading at least at grade level by the end of the year." If they don't catch up by second grade, third grade will be a big challenge because "all of the material is taught from the book from that point on."
STAIR identifies students in partnership with literacy tutors at each school who test the kids at the beginning of the year. They accept students starting with the ones who need the most help until all slots are filled.
The program: When I visited on a Wednesday afternoon, the site was hosting 23 students from Gibson elementary school. (IPC also hosts students from Whatley on Tuesday and Thursday).
Kids arrive at the church at 3 pm on an IPC bus. They start off their afternoon relaxing with a healthy snack, usually a sandwich and a piece of fruit. "Some of our kids have been at school since 7:15 am, so it's really a long day for them," says Evelyn. She always makes sure the snacks are healthy, so the kids stay energized and alert.
Reciting a poem, ringing the bell: Before they can go meet their tutors, retired educator Lewana Robinson leads them in reciting the Langston Hughes poem, Dreams: "Hold fast to dreams, for if dreams die, life is a broken-winged bird that cannot fly." One student precedes the others into the hallway, ringing a triangle to signal the start of classes.
Tutors range in age from high school students to senior citizens. They include a variety of working and retired professionals, from surgeons to musicians to teachers. As they congregate in the hallway, kids catapult themselves forward for hugs and enthusiastic greetings.
"Our tutors are so talented," says Evelyn. "The ones who don't have teaching talent have storytelling talents and other strengths." She is careful to pair more experienced tutors with newer recruits, so that each student is working with at least one tested teacher for one lesson a week.
"One-on-one attention is great for the kids' self esteem," says Evelyn. "And it works. We can show it on standardized tests. Our volunteers can see that we're making a difference – and it's fun!"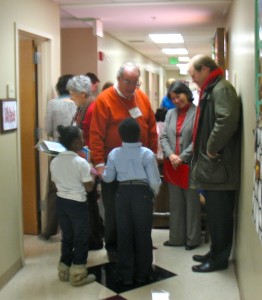 Each classroom holds four student-teacher pairs to maximize personal attention. Some choose to sit on the floor, like high school student Adelaide with her charge, Meliza. Others read aloud in groups, like this classroom, led by retired second grade teacher Susan Fulton.
Later, Susan works individually with her student, leading him in a personalized lesson on phonics and vocabulary. All program materials come from the STAIR national program, which was founded in New Orleans.
Evelyn told me she was initially surprised by the number of retired teachers who were involved with the program – wouldn't they be tired of teaching? – but Susan says it's no surprise to her. "This is really a teacher's dream, to be able to work one-on-one with a student."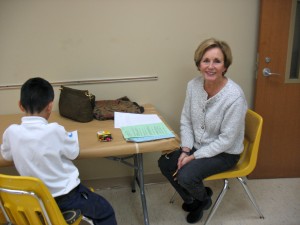 Lewana says the kids form strong bonds with their mentors, and it's important for them to be a constant presence in the kids' lives. "We're character builders. We strengthen them," she says. "Some of them start the year all shy – and even some of the tutors are shy at first! But once they break the ice, it all works out."
Evelyn points out one student who made a drawing of herself, which she labeled "Kenesha is beautiful." She loves to see students becoming more expressive and gaining self-confidence.
The results are compelling: In 2009, STAIR tracked reading improvement rates of 96%.
Evelyn tells me about a troubled student who had to repeat the second grade. He was initially kept out of STAIR because school officials thought his behavior would be too disruptive. But after a few months of tutoring, "He completely transformed!" His teacher called to say that "his attitude is great, he's participating, he's making good grades." By the end of the year, his reading score had doubled.
"It's the one-on-one attention, 4 hours a week, that really makes a difference," Evelyn says.
The groups end the afternoon relaxing, reading, and playing games together.
What is possible: Evelyn was interested to hear about APP's goal of ending poverty and reflected on how her own program was a part of that.
"I know that ending poverty is such a big goal it sounds like a joke – and maybe the poor will always be with us after all – but when you see children in our program double their reading test scores, and when see children blossoming, they are just so happy…" Evelyn trails off, smiling.
It's clear that she believes in the mission. She is helping to achieve it, one student at a time.
What can you do?
Posted by Robyn Hyden