July 20th, 2011
Last Wednesday, nearly 70 people attended our Higher Education Alliance Summer Workshop and Annual Meeting to share resources and ideas on how to incorporate tornado recovery into students' service-learning experiences.
Take-aways from the workshop included:
(1)   Tornado Recovery Is Not a Sprint; It Is a Marathon: This is a 3-5 year process, and low-income individuals are particularly vulnerable to such disasters due to their place and type of residence, building construction, and social exclusion. And in addition to its physical impact, disasters also result in great psychological impact.
(2)   Increase Awareness: Educate and involve your students, faculty, employees, co-workers, communities, and peers in relief and recovery.
(3)   Involve Those Around You: Build disaster relief and recovery programs on your campuses utilizingoutreach and service-learning.
(4)   Form Partnerships and Relationships: With recovery groups, such as FEMA and Long-Term Recovery Committees. These are vitally important in creating a sustainable recovery.
(5)   Network, Coordinate, and Collaborate: With other agencies and student, community, and faith organizations.
(6)   Reflect, Reevaluate, and Reassess: Save time, expense, and energy while increasing efficiency and effectiveness.
(7)   Prepare for the Future: Alabama is the sixth most tornado-prone state (and seventh most disaster-prone state).
Here is the story of the day in pictures:
The day kicks off at 10, and after our Executive Director Kristina Scott welcomes the crowd and presents "Repairing Alabama After the Tornadoes," giving context to the day: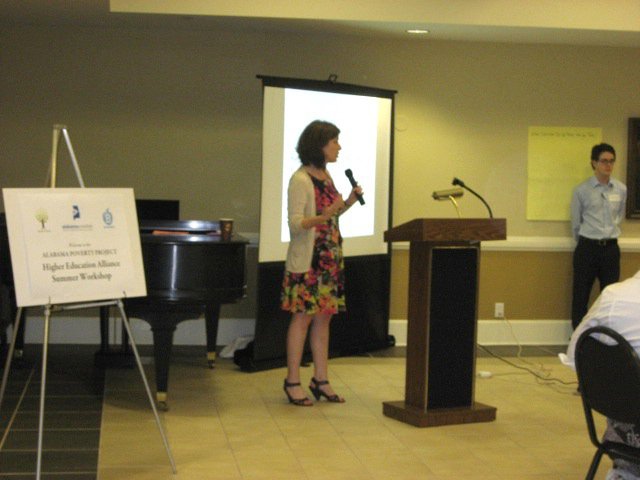 Dr. Brenda Phillips, Professor with the Center for the Study of Disasters and Extreme Events at Oklahoma State University, gives the keynote address, Disaster Learning and Service Learning, followed by Q&A: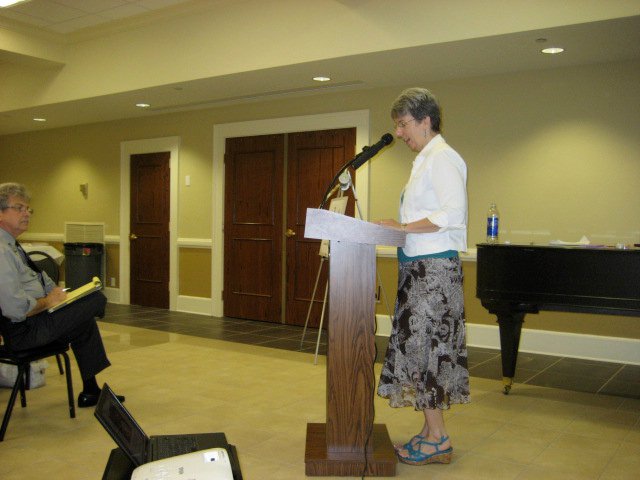 After lunch, attendees gather to hear presentations from APP partners including:
Gus Heard-Hughes, Director of Initiatives of the Community Foundation of Greater Birmingham, discusses the CFGB's work funding case managers for tornado victims and providing long-term recovery assistance in the wake of April 2011 tornadoes in his presentation,  "Long-term Recovery Committees and Case Management":
Wellon Bridgers and Kathryn Merritt, of The University Fellows Experience present "Transforming a Black Belt Experience into The Experience":
Next, Phi Theta Kappa and Northwest-Shoals Community College (Phil Campbell) present "That's Why It's Called a Community College: Northwest-Shoals College and Phil Campbell":
Finally, attendees conclude the workshop with small group discussions and reflection: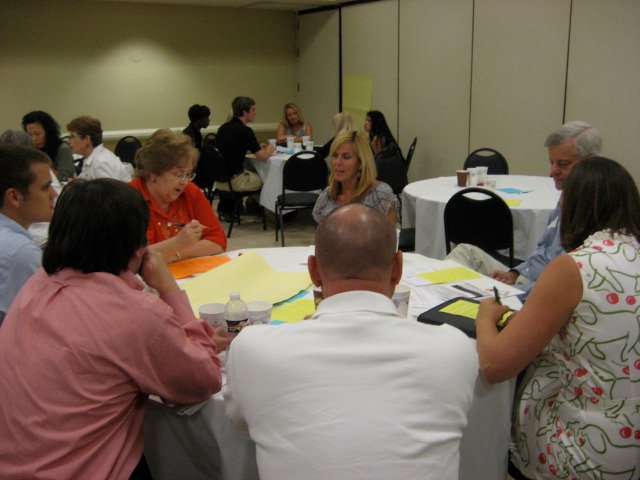 Thank you for the great feedback. Emily Myers of Auburn described the event as "cutting-edge," Creston Lynch of the University of Alabama as "dynamic," and Dennis Itson of Faulkner University as "an enhancement to our university's programs."
Our Hess Fellow David Olsen served as the program coordinator for the workshop.  Many thanks to him and everyone else who came together to make this workshop a great success.
To learn more about Tornado Recovery, Vulnerable Populations, and what you can do to address these issues in your community check out these resources:
Poverty and Economic Security
Disaster Recovery
FEMA Resources
Case Management Resources
Presentations