December 6th, 2011
Alabama-made goat cheese. Home-grown pepper jelly.  And the power to end poverty.
Our Alabama Possible campaign is about the power we have to ensure every Alabamian achieves their potential.
That's why we have teamed up with two Alabama treasures – Elkmont's Belle Chèvre Cheese and Thomaston's Alabama Rural Heritage Center – for our 2011 gift membership premium.
For your donation of $50 or more, we'll mail your honoree a gift box with Belle Chèvre fromage blancand the Rural Heritage Center's Mama Nem's red pepper jelly along with a special note acknowledging your gift and their membership in APP supporting of our work mobilizing Alabamians to eliminate poverty.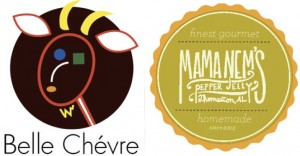 Order here by midnight on Tuesday, December 20, to make sure your gift arrives on time. Payment accepted via Paypal only. Call 205-939-1408 with any questions.