March 23rd, 2011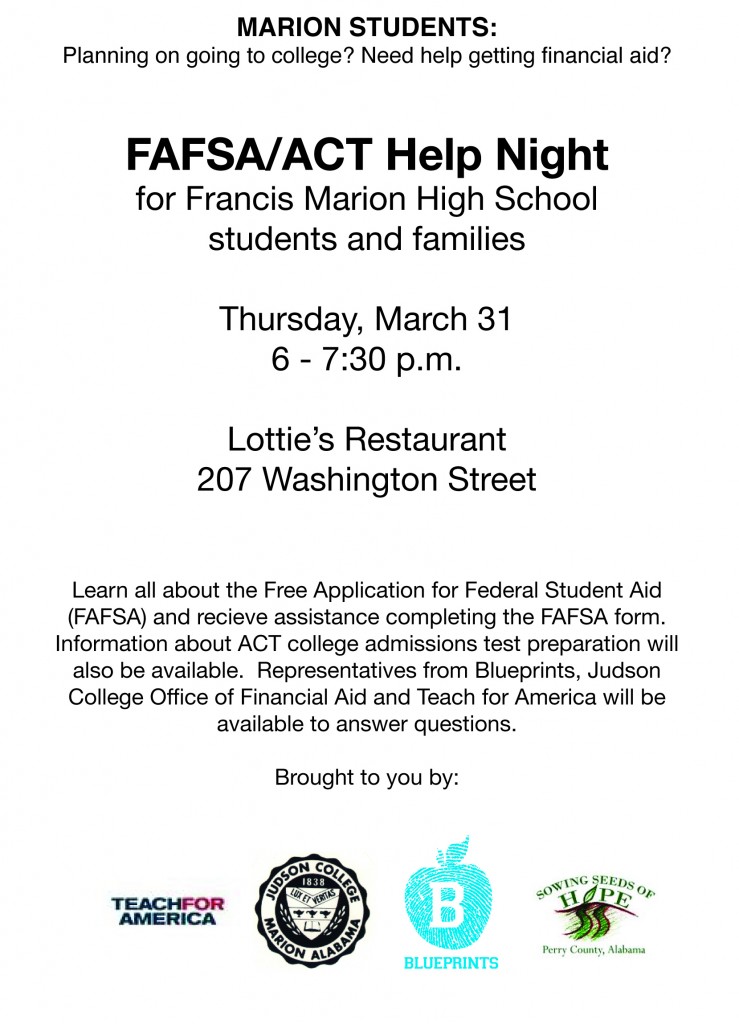 WHO: Students and families at Francis Marion High School
WHAT: Help filling out FAFSA forms and information on ACT test preparation
WHERE: Lottie's Restaurant
207 Washington Street
Marion, AL 36756
DATE: Thursday, March 31, 2011
TIME: 6 – 7:30 p.m.
MARION – The Alabama Poverty Project's Blueprints College Access Initiative, Judson College, Teach for America and Sowing Seeds of Hope next Thursday will bring assistance on applying for college and financial aid to students and families at Francis Marion High School.
Presenters from Judson College will explain the Free Application for Federal Student Aid (FAFSA) and provide assistance on completing the FAFSA form.  Information about ACT college admissions test preparation will also be available.  Representatives from Blueprints, Judson College Office of Financial Aid and Teach for America will be available to answer questions.
About the Blueprints College Access Initiative:
Blueprints is an eight-week college access program for high school students. Sessions cover topics from financial aid and financial literacy to career assessments, resume building, interview skills and choosing the right college or university. Blueprints creates opportunities for both students and families to engage in the college application process, builds a college-positive culture, provides opportunities for high school students to visit college campuses and equips high school graduates for post-graduation success.
Posted by Robyn Hyden