March 28th, 2013
APP's Blueprints College Access Initiative sponsoring FAFSA completion events in Chilton, Franklin, Perry, and Shelby Counties.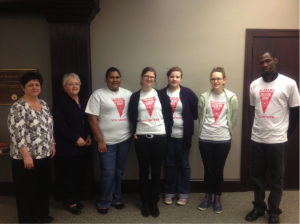 Through a collaboration with the Alabama Department of Education, members of its higher education alliance, and local school districts, APP's Blueprints College Access Initiative is aiming to boost Free Application for Federal Student Aid (FAFSA) completion by 20 percent in Chilton, Franklin, Perry, and Shelby Counties.
FAFSA completion helps students and their families access federal and most state financial support, including grants, scholarships, the lowest-cost student loans and work-study opportunities.  Studies show that 9 out of 10 students who complete the FAFSA go on to postsecondary education.
Blueprints held FAFSA completion events in February in Birmingham, Marion, Montevallo, and Phil Campbell. We are working with Judson College, Northwest-Shoals Community College and the University of Montevallo on intensive efforts in Chilton, Franklin, Perry, and Shelby Counties.  Over the next month we will host additional FAFSA completion events, provide individual assistance, and host FAFSA follow- up events where professionals and volunteers will help students and their families interpret financial aid packages offered by postsecondary institutions.
Blueprints works to increase educational attainment and create a college-going culture in the state.  Alabama ranks 44th in educational attainment, which is closely liked to personal and economic well-being.
If you are an educator, parent or student at a public high school in Chilton, Franklin, Perry or Shelby Counties and would like to host a FAFSA completion event or need assistance with completing the FAFSA or interpreting aid awards please contact us at 205.939.1408.
Further resources can be found  at www.blueprintsalabama.org and http://studentaid.ed.gov/.