June 18th, 2014
Summer feeding sites are open all over Alabama to serve free meals to children under 18, without proof of need. Alabama Possible published a map and sortable database with feeding locations, meals served, dates open, and phone numbers on its webpage at www.alabamapossible.org/summerfeeding. Summer is a particularly vulnerable time for the 436,279 Alabama students who participated in free or reduced lunch during the 2013-2014 school year. Many kids run the risk of missing meals without the guarantee of in-school breakfast and lunch. To address this need, there are more than 700 summer feeding sites across the state this year.
Alabama served kids 385,547 more meals at more than 100 new summer feeding sites during 2013. Summer feeding expansion is a initiative of the  End Child Hunger in Alabama campaign. Over the past year, Alabama Possible has collaborated with the Alabama State Department of Education, regional food banks, and the USDA through the task force. The resulting 30 percent boost in meals served was the biggest in the Southeast, and it moves Alabama closer to the national goal of 40 percent participation.
Alabama served a total of 1,650,652 meals during the summer of 2013. This compares to 1,265,105 in 2012. This moved Alabama up in the national participation rankings to 43rd, compared to 47th in 2012, according to the Food Research and Action Center (FRAC) report "Hunger Doesn't Take a Vacation." Children under 18 are eligible to eat for free at these summer feeding sites. Most of the sites serve lunch, but some also serve breakfast and dinner. Different locations have different meal times. Additionally, some feeding sites make meals available for purchase by parents and accompanying adults at a low price.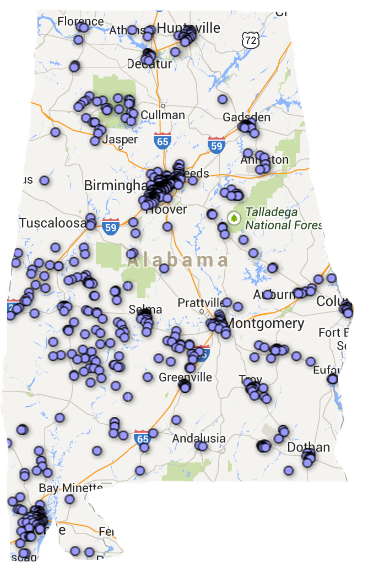 To locate the summer feeding site nearest you, check out our map or text 'FOOD' to 877-877.