June 9th, 2011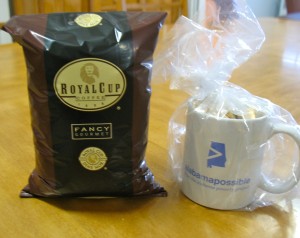 We had such a great response to our Mother's Day Pie promotion that we decided to offer something equally exciting for dads!
Give your dad some Fancy Gourmet coffee from Alabama's own Royal Cup Coffee, specially packaged with one of our Alabama Possible mugs. We'll ship them, along with an Alabama Possible giftmembership, just in time for Father's Day.
Your Father's Day gift will mobilize Alabamians to eliminate poverty. $50 includes shipping, one pound of coffee, one mug and an Alabama Possible gift membership. Place your order by next Wednesday, June 15, to guarantee delivery! alabamapossible.org/dads.
Call us at 205-939-1408 with any questions. Thank you for your support!
Special thanks to Royal Cup Coffee for partnering with us on this promotion and for being the headline sponsor for our upcoming benefit, An Evening to Honor Wayne Flynt.
Posted by Robyn Hyden