May 26th, 2011
It's time to celebrate! We just wrapped up our second year of the Blueprints College Access Initiativeat high schools in Birmingham, Tuscaloosa, Marion and Montevallo.
Blueprints creates a college-positive culture and increases college access by supporting families in college and career planning. It is structured as a service-learning partnership between college students and local high school students. College mentors lead students through a multi-week in-class curriculum to explore career planning, paying for college, preparing to apply and choosing a school.
Above: Students from Woodlawn High School in Birmingham celebrated their Blueprints graduation with a focused campus tour to UAB.
"Three of my students are aspiring doctors now!" said Mrs. Hollis-Davis (pictured above, center). She said she believes Blueprints inspired them to aim high, and she hopes we can continue our partnership next year.
"Blueprints taught me things I didn't even know about college and financial aid," said mentor J.T. Moore, a UAB student who has struggled himself to get to college. "I can really relate to these kids."
One of his students, Jermaine, was the Blueprints valedictorian. He earned the most points for his Blueprints portfolio by completing extra-curricular assignments with the help of his teachers, parents and mentors, and he's been thinking about career options. "I thought I wanted to be a rapper, but now I also want to be a lawyer," he said.
Another Woodlawn student, Tiara, wants to be a pediatrician. "Blueprints taught me about a lot of ways to get money to help pay for college!" she said. "My graddad always wanted me to go to UAB, and now I'm really thinking about it."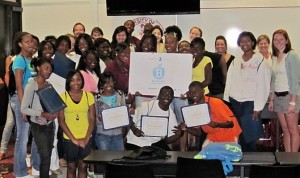 Above: Students from Central High School in Tuscaloosa visited the University of Alabama campus with UA student mentors.
Blueprints is a service-learning program. College student mentors reflect on their service experiences through in-class learning and discussion about poverty, opportunity and education.
Lindsey Weiner, a University of Alabama Honors College student, said that the service-learning coursework added meaning to her service experience. "We watched 'Waiting for Superman' and talked about education in the classroom. It allowed me to reflect on the challenges facing our students and teachers today."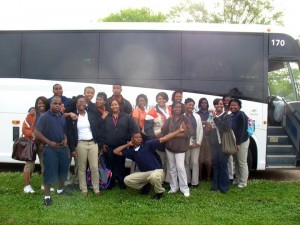 Above: Students from Francis-Marion High School toured Alabama State University.
Francis-Marion's counselor, Mr. McCaa, told us that Blueprints is an important addition to students' classroom experience, and that getting students to visit a college campus is especially important. Her students were excited about college after spending a day at ASU, where they experienced a Greek Week step show, toured new buildings and visited the National Center for the Study of Civil Rights and African American Culture.
"I'm going to college, for real!" affirmed Francis-Marion junior Jennifer, who says she wants to be a criminal justice and forensics major after watching CSI and Bones. "I wasn't excited before, but after today, I really think I could do this."
Another student, Derrick, said he was thinking about going to art school after a Blueprints mentor encouraged his interest in drawing.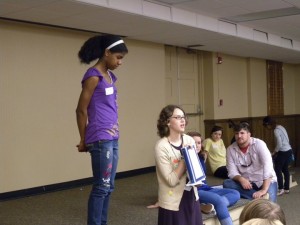 Above: Montevallo High School freshmen completed Blueprints and celebrated their graduation on a campus visit to the University of Montevallo.
Christina Morris (pictured above) from Montevallo High School won Blueprints Valedictorian and read her essay about how Blueprints helped her believe that her dream could become reality.
"From the time I was ten years old, it has always been my lifelong dream to become a doctor. At the time, I had no clue where to turn to get the resources I would need to achieve my goal." Christina said that leadership from teachers and mentors helped her start thinking early about how to achieve her goal.
"You miss 100 percent of the chances you don't take," Montevallo mentor Patrick shared with his students, admitting that he knows he could have done better and worked harder in high school. "You don't want to look back on your life when you get to be my age and ask yourself 'what if.'"
We were thrilled to offer Blueprints to over 100 Montevallo High School freshman this year for the very first time! As Blueprints continues to grow, we hope to reach even more students at our partner schools.

Thank you to all of our generous donors, community partners, Higher Education partners, schools and teachers who made this year of Blueprints possible!
Blueprints receives foundational support from the Taco Bell Foundation for Teens, Walmart Foundation, Mary Reynolds Babcock Foundation, Independent Presbyterian Church Foundationand BBVA Compass Foundation.
Increasing college access is vital to fighting poverty in Alabama, and we couldn't do it without your help.Donate now to help keep Blueprints going strong for another year.
Posted by Robyn Hyden