December 22nd, 2014
As our students finished up exams and began their holiday break, the Blueprints team reflected on our accomplishments for fall 2014.
We've reached almost as many students this semester as we did over the course of the entire 2013-2014 school year. Last year, we teamed up 697 high school students with 150 college mentors. In fall 2014 alone, we have partnered with 135 college mentors from eight colleges to work with 600 students in 10 high schools across Alabama. This puts us well on our way to reaching our goal of 1,000 Blueprints students for the 2014-2015 school year.
Our impact has expanded as the number of program participants increased, new partnerships developed, and our participation in statewide college-access initiatives grew.
This fall we added two new partner schools: Ramsay High School and Loachapoka High School. All of the 9th graders at Ramsay High School and 12th graders at Loachapoka High School are now engaged in our college planning activities, such as college personality quizzes that gauge what type of college would best fit student interests, and academic planning for the remainder of high school to set students on the path to reach post-secondary education.
We also took our 9th and 11th grade participants on field trips to Troy University, Shelton State Community College, Lawson State Community College, and the University of Alabama. Our tours were led by college students who explained what unique programs and opportunities each college had to offer —from auto-mechanics, nursing, and research opportunities, to the all-you-can-eat dining halls.
The Blueprints team also took part in the Alabama State Department of Education's College Application Week, an initiative dedicated to encouraging every high school senior to apply to college. The Blueprints team partnered with guidance counselors, administrators, teachers, and college admissions professionals during this week to set up workshops at eight high schools. In total, we worked with 485 students who submitted over 1,000 college applications. Students were seen all over our partner schools proudly wearing "I Applied to College!" buttons.
While students are enjoying their vacations, we are gearing up for another jam-packed semester. OurCash For College campaign kicks off in Birmingham City high schools in the spring to ensure students have the resources and knowledge to fill out the Free Application for Federal Student Aid (FAFSA) forms.
Thank you to our Blueprints partner high schools and colleges for making this semester possible.
As 2015 approaches, we look forward to another great semester of growth, partnerships, and success.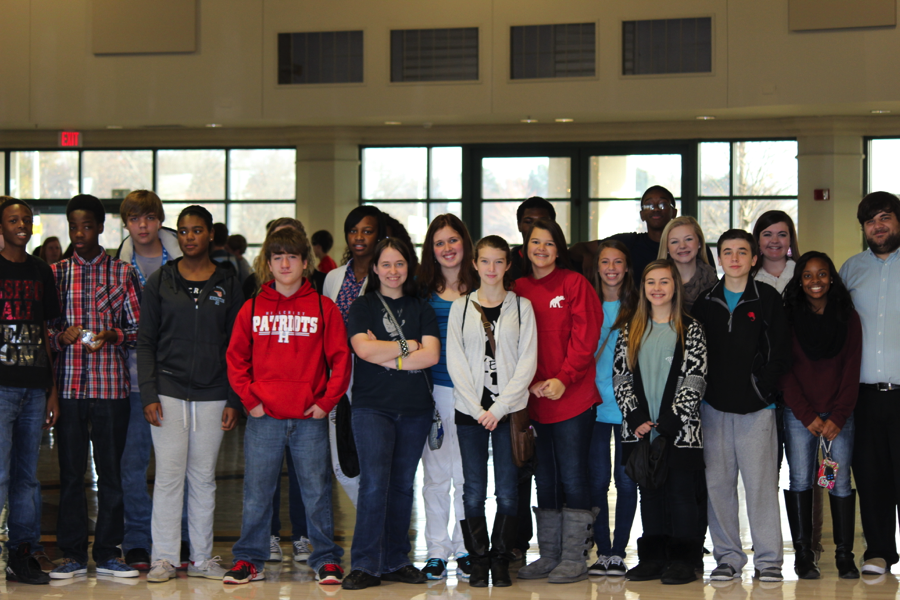 Hillcrest High School 9th graders starting the day of college tours at Shelton State Community College's Martin Campus.
Help Team Blueprints carry our successes into 2015 by joining us below: