September 6th, 2012
This week, we are kicking off the Blueprints College Access Initiative's biggest year yet.
More than 200 ninth graders in seven north and central Alabama high schools will participate in the Blueprints early-awareness mentoring program during the fall semester. With guidance from more than 50 college student mentors, ninth graders build a portfolio with personalized activities and resources for accessing financial aid, exploring careers and colleges, and acquiring academic and soft skills. The ninth grade program culminates in a focused field trip to a university campus.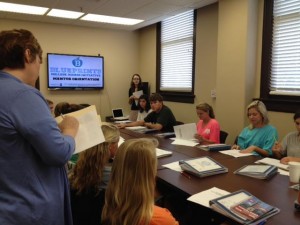 To build on our ninth graders' successes, we are launching work with 10th, 11th, and 12th graders. Beginning this month, Blueprints college-prep coaches will encourage student access and persistence through a combination of ACT prep, career and college planning, and financial aid assistance for families.Blueprints launched in Spring 2009 with just 30 ninth graders at Holt High School and a handful of mentors from The University of Alabama Honors College. Over the past four years, Blueprints has blossomed to serve nearly 400 ninth graders and engage more than 100 college students as mentors.
Want to get involved with Blueprints? Here's how:
Organize college visits with local high school students; email Hannah Selles to get started.
Become a mentor. Connect with Blueprints programs currently underway in Tuscaloosa (at the University of Alabama), Marion (through Judson College), Montevallo (at the University of Montevallo) and Birmingham (at UAB, Birmingham Southern, and Samford University); emailElizabeth Clark to find out more.
of materials and staffing with your financial gift.
Thank you to the Belk Foundation, the Independent Presbyterian Church Foundation, BBVACompass, the Daniel Foundation of Alabama, and the Taco Bell Foundation for Teens for their generous support of our work.