December 6th, 2012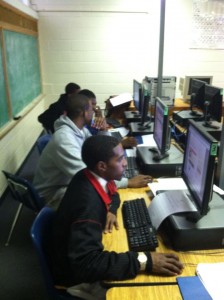 In order to maximize your investment in improving college access, this Fall APP's Blueprints College Access Initiative launched a new college-coaching program at three Birmingham high schools: Woodlawn, Jackson-Olin and Holy Family Cristo Rey.
College-prep coaches encourage student access and persistence through a combination of ACT prep, career and college planning, and assistance for families in completing the FAFSA (Free Application for Federal Student Aid).
"My mentor Devante Smith . . . guided me on how to go about getting financial aid, scholarships, and grants. I now have a different approach about going to college thanks to you all," said Jessie Paul, a junior at Jackson-Olin High School.
Here are the results from our first semester:
82 10-12th grade students participated in college coaching activities,
Seniors have completed 30 college applications,
29 students have registered and are currently preparing to take the ACT, and
10 students are completing scholarship applications.
"It is so rewarding when I get calls from students telling me that they have been accepted to college," said AmeriCorps*VISTA Member Kevi Martin.
How can you help us build on this success?
Volunteer. during FAFSA February to help more students access money for college. Email Eva Walton for more information.
Organize college visits with local high school students; email Hannah Selles to get started.
Donate to APP to help cover the costs of materials and staffing.
Above: Seniors at Holy Family Cristo Rey work on college applications.