April 23rd, 2013
Judson College Education Professor Gwen McCorquodale believes in Perry County Schools.
Perry County, known as the "Athens of the South", has a rich history as an education center.  Marion is home to APP Higher Education Member Judson College along with Marion Military Institute. APP Cornerstone Members Alabama State University and Samford University also trace their roots back to Marion.
However, it is a community with tremendous needs.  Nearly 40 percent of Perry County children live below the federal poverty line.
As part of their professional training, Gwen's students volunteer at local schools, including Albert Turner Elementary School. During their service, her students noticed that their students needed books to read at home.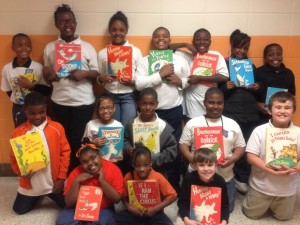 Thus, a book drive was born. Gwen works with Principal Marshae Pelt and Perry County Schools Superintendant John Hurd to provide culturally and educationally appropriate books for young readers.
"We work to have a reciprocal relationship with local school leaders, and getting their input on books just makes sense," Gwen said.
This effort is but one reason why Turner Elementary School was recognized in the Center for Rural Alabama's Lessons Learned from Rural Schools report. With grant funding, Turner Elementary provides a Virtual Health Science Classroom, video conferencing equipment, Reading First, Black Belt Arts initiative, HIPPY and 21st Century extended day programs.
As a result, Turner Elementary students, who nearly all receive free or reduced lunch, score well above state averages on the third-grade reading test.
APP also partners with Judson and Perry County Schools on the Blueprints College Access Initiative.
You can support Judson and Perry County Schools' efforts by attending a fundraising concert by notedPianist Michael Dulin next Sunday, May 5, at 2 p.m. at Vestavia Hills Baptist Church.
For more information, please contact Gwen at gmccorquodale@judson.edu
Above: Turner Elementary School fourth grade students holding books in honor of Dr. Seuss Day.