December 6th, 2011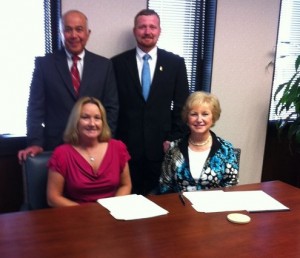 After the April 27 tornadoes, Calhoun Community College Students Amy Beaver and Jerry Smith wanted to do something to address the long-term needs of tornado victims.
The two, who are both regional officers in the Phi Theta Kappa two-year honor society, met with other Alabama Phi Theta Kappa leaders at Shelton State a few days after the storms.  The Phi Theta Kappa group toured Tuscaloosa and talked about what they were doing at home to meet tornado victims' short-term needs.
They knew that was not enough.
"We had been doing volunteer services in our neighborhoods, and we decided we wanted to do something that would help in the long-run," said Amy, a business management major at Calhoun Community College and Phi Theta Kappa Regional Vice President.
They decided to take action by asking that the Alabama Community College System reduce tuition for students who lost their homes and/or jobs.  Educational attainment is closely linked to both economic security and resilience, and tuition costs can be a financial burden as students attempt to rebuild after natural disasters.
With the assistance of their Phi Theta Kappa Advisors, APP Volunteer Board Member and Northwest-Shoals Community College President Humphrey Lee and Athens State Transfer Coordinator Nora Lee, Amy and Jerry met with Community College System Chancellor Freida Hill in June.  At that meeting, they had a chance to talk with Dr. Hill about their experiences and asked for her support.
When we asked if Amy and Jerry were nervous, Amy quickly replied, "Dr. Hill made us feel like we were having a normal every day conversation."
After securing Dr. Hill's backing, the next step was to appear in front of the Alabama State Board of Education, which sets tuition for the two-year college system.
At the board's July meeting, the members unanimously agreed to cut tuition in half for students who lost their homes or jobs due to the storms.
Smith, a pre-engineering major at Calhoun and Alabama Region Phi Theta Kappa president, said that the experience would help him advocate in the future.
He "learned how to take the right path," Smith said, and credits Dr. and Mrs. Lee with helping them understand the chain of command.
Dr. Lee said, "Students can be very powerful delivering a message, especially when their passion is based on an area of great need."