August 1st, 2011
Last Wednesday, the Alabama Possible team went on a field trip to Alabama's Black Belt, hitting several historical landmarks central to the Civil Right's movement.
We started by taking the Selma to Montgomery Trail in reverse, stopping first at the Lowndes County Interpretive Center located on the site of the Tent City where sharecroppers stayed after being kicked out of their homes for voter registration activity.  There, we watched a documentary Never Lose Sight of Freedom and saw various installations about the march to Montgomery.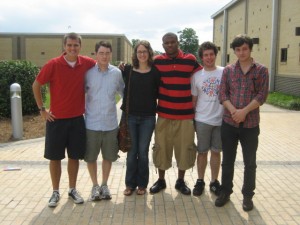 On the way to Camden, AL, we stopped at the historic Edmund Pettus Bridge in Selma, AL and explored the memorial garden there.
In Camden, we stopped by Black Belt Treasures and learned about the culture of the Black Belt past and present by looking at the art available for sale at the gallery. There, we ate a delicious southern lunch at local favorite Ms. Kitty's Restaurant.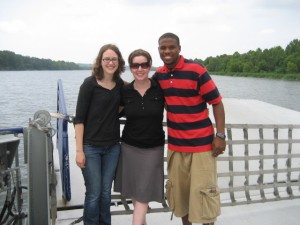 From Camden, we boarded the Gee's Bend Ferry to Gee's Bend, one of the most impoverished areas in the country, where the talented and internationally renowned Quilters of Gee's Bend taught us a thing or two about quilting. Oh yeah, they gave us cake too!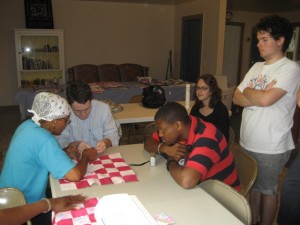 Finally, we stopped by the old Perry County Jail where the civil rights worker James Orange was held and where Jimmie Lee Jackson would tragically be killed, two events that would eventually spark the Selma to Montgomery March.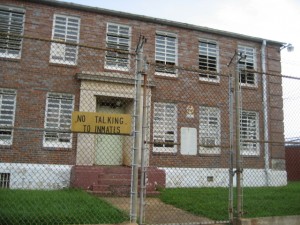 The trip, as a whole, provided us all with a deeper connection to the state of Alabama, its communities and its rich and diverse cultural history. From meeting the people, seeing their culture, and experiencing their kindness and hospitality, we gained an even better sense that it is our moral obligation to do what we can to change the systems that have kept these communities in such terrible poverty for so long, and from learning about the civil rights movement, we learned to value the most elemental tool we have in enacting that change, the right to vote.  We discovered that voting is not only a right but is also a duty.
Posted by Stuart Norman