March 3rd, 2011
25.2 percent of respondents in Alabama in 2010 reported not having enough money to buy food that they or their family needed at some point during the prior twelve months, according to a report today released by the Food Research and Action Center (FRAC), "Food Hardship in America – 2010."
This report provides data on food hardship, which is the inability to afford enough food. It found that:
In 2010, 25.2 percent of households in Alabama said they were unable to afford enough food, the second highest rate in the country.
The Birmingham-Hoover Metropolitan Statistical Area (MSA) had a food hardship rate of 23.4 percent in 2010, the 11th highest rate among the nation's 100 largest MSAs.
The 7th Congressional District reported 29.3 percent food hardship, the highest in the state and the 7th highest in the country.
The 6th Congressional district reported an 18.3 percent food hardship rate, the lowest in the state. However, that is still higher than the national average of 18 percent.
"This report shows that hunger impacts every corner of Alabama," said Kristina Scott of the Alabama Poverty Project (APP). "Our neighbors are experiencing real pain."
The data were gathered as part of the Gallup-Healthways Well-Being Index project, which has been interviewing 1,000 households daily since January 2008. Specific to this analysis, people were asked, "Have there been times in the past twelve months when you did not have enough money to buy food that you or your family needed?" The data gathered by Gallup were analyzed by FRAC.
"The data in this report show that food hardship – running out of money to buy the food that families need – is a substantial challenge in every corner of this country," said Jim Weill, President of FRAC. "With persistently high unemployment and underemployment across the nation, we have to strengthen programs that benefit those who are struggling."
"We must build our community food resources so that Alabamians have enough to eat. In these tough fiscal times, it is more important than ever to address the structural causes of poverty and hunger. I challenge lawmakers and communities to create systems so that people can meet their own needs," said Scott.
The full report is available at www.frac.org.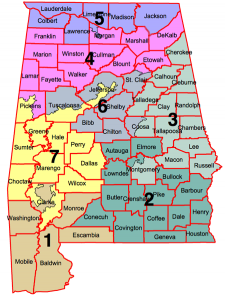 Food hardship in Alabama's congressional districts, 2010:
7th Congressional district – 29.3 percent
4th Congressional district – 27 percent
3rd Congressional district – 25.8 percent
1st Congressional district – 25.1 percent
2nd Congressional district – 24.8 percent
5th Congressional district – 21.2 percent
6th Congressional district – 18.3 percent
Posted by Robyn Hyden