November 12th, 2014
On October 24th, 65 higher education and community partners from around the state convened for our Lifetime of Learning Conference at Faulkner University in Montgomery.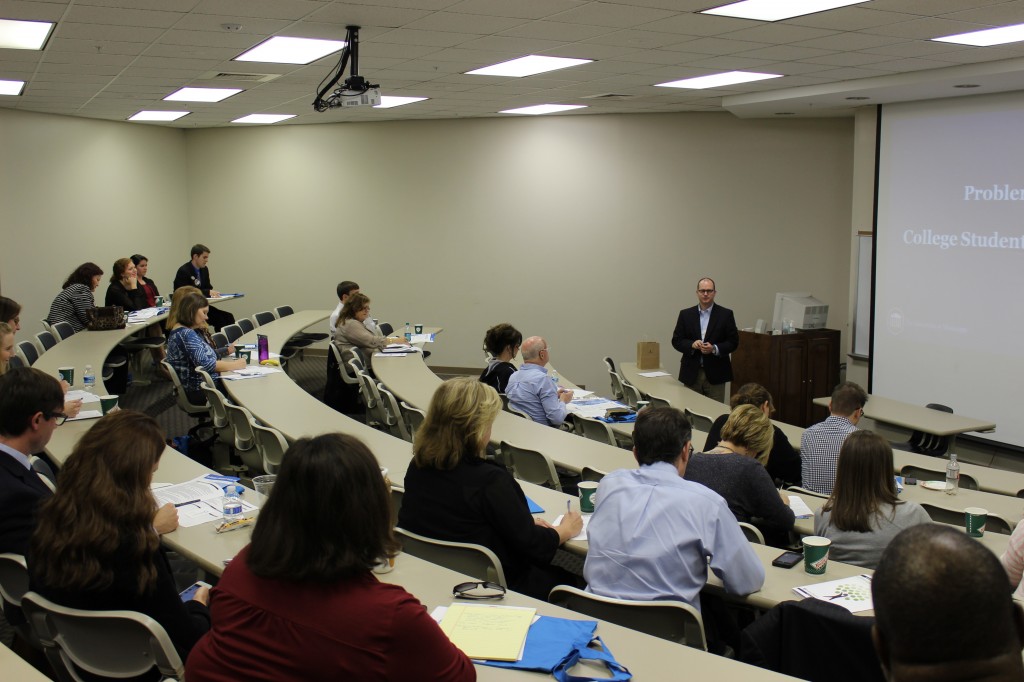 Dr. Stephen Monroe, Assistant Dean at the University of Mississippi, opened the conference with an interactive presentation on the university's commitment to building sustainable systems for fighting poverty in North Mississippi through education. He highlighted two UM service-learning programs addressing child development needs, Jumpstart Pre-K and Horizons, and one program providing concerted capacity support to local organizations, College Corps. He warned attendees against flashy "drive-by volunteerism" and challenged all to look for long-term opportunities to invest in their communities.
During the morning and afternoon breakout sessions, professors and students shared successful experiences in enganging neighboring communities through service-learning. Professors Dr. Jill Wicknick, Dr. Meredith Tetloff, and Dr. Hollie C. Cost of the University of Montevallo spoke on creating tangible experiences for interdisciplinary instruction while providing valuable service to the community.Northwest-Shoals Community College students Tyler Jenkins, Markisha Spearman, and Erica Valdez spoke on how the classroom informed their experiences working with Blueprints College Access Initiative at Phil Campbell High School and how those experiences directed learning outcomes in the classroom.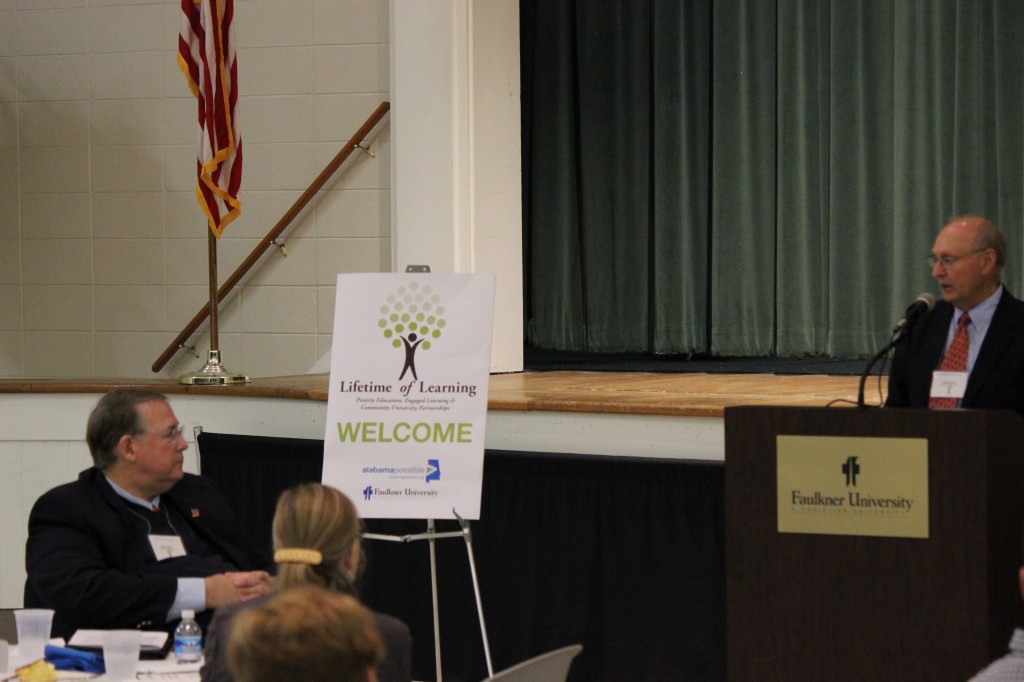 Dr. Bill Muse, former president of Auburn University and current president of the National Issues Forum, addressed attendees during the afternoon keynote. He emphasized the democratic power of educational opportunity and the university's responsibility to serve the greater community. He also referred to the biblical statement, "the poor will always be with you," as a commandment for service and action, not apathy.
The afternoon plenary featured a conversation between Felicia Jones, the president of the Black Belt Community Foundation, and Christopher H. Spencer, Director of Community Development at theCenter for Community-Based Partnerships at The University of Alabama. Chris McCauley of theDavid Mathews Center for Civic Life facilitated. Felicia and Christopher discussed the promise of community-based participatory research in engendering long-term community support through involving community members in the entire research process.
Thanks to presenters, attendees, and to Faulkner University for making the day a great success!
Please save the date and be on the lookout for more information on Troy University's Spring Hunger Summit set for Friday, April 10 in Montgomery.