August 31st, 2010
In case you missed it, our executive director Kristina Scott was a guest on last Friday's "On the Line" call-in show on 90.3 WBHM Birmingham. After a week-long series discussing the price of poverty, which covered issues from food deserts to clean water, time banking and involuntary flextime, host Bradley George asked Kristina to join Dr. Mark LaGory, a UAB sociologist, to discuss some of the hidden costs of living in poverty in Alabama.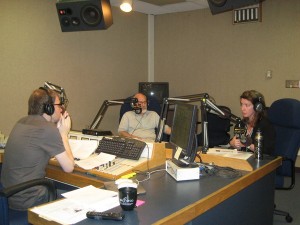 Above: Bradley George, Mark LaGory, and Kristina Scott in the WBHM studio – image via Twitter @WBHM903
The program opened with a discussion of some of the hidden costs of poverty: food costs more in food deserts, access to transportation is limited, jobs offer less flexibility, and low-quality food and healthcare take a physical toll. They talked about how the recession had affected the middle class and low-wage earners, and how Alabama has the second biggest gap between rich and poor in the nation.
Kristina talked about how people in poverty are often able to be resourceful in extreme circumstances, citing the Gee's Bend quilters as just one example. Dr. LaGory said that we need to focus on our assets, noting that our highly religious population means that we are eager to help – but churches can't do it all.
Both Mark and Kristina agreed that more civic engagement could have a positive impact on our state, citing Robert Putnam's Bowling Alone, which lists Alabama as one of the least civically engaged states in the country. Mark emphasized that change has to be motivated from within communities. Kristina noted that we have to hold our government accountable for providing public services, like education.
Callers from the Birmingham metro area cited financial literacy, public transportation, job training, and misconceptions about the poor as some of the obstacles we face. The discussion ended by addressing the negative impact that our high poverty rate has on everyone, and why all of us should care.
Download "On the Line: The Price of Poverty"
Posted by Robyn Hyden