September 14th, 2010
The U.S. Census bureau will release 2009 census data this Thursday, including poverty statistics. According to "US poverty on track to post record gain in 2009," some analysts forecast the largest increase in U.S. poverty in 50 years.
The national poverty rate, which was 13.2 percent in 2008, may jump to over 15 percent when Thursday's numbers come in.
Below: U.S. poverty, 1959-2006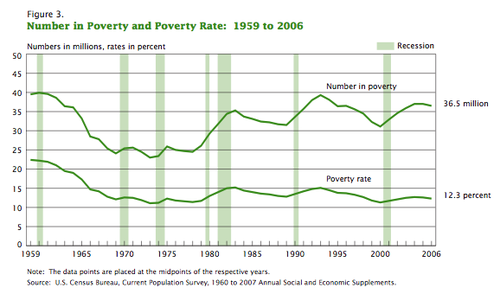 The article speculates that politicians are more focused on middle-class unemployment than on the plight of those in poverty. This seems to set up an either/or proposition: help the struggling middle class, or reduce poverty.  However, we think that that policymakers can and should be doing both.
America's middle class – which has always been the basis of our economic strength – has fallen behind.  Even before the Great Recession hit in 2008, we saw that many middle class families were looking off the cliff of economic security as they juggled rising housing and health care costs along with declining assets.  And now many of those folks find themselves unable to find work that pays a decent wage.
As a result, people who wouldn't normally fall below the poverty line are struggling more than ever.  Homeless shelters are seeing an increase in the number of families, many who once considered themselves middle class, seeking assistance.
What can we do? Now is the time to focus on policy changes that will create economic opportunity and restore a stable middle class. Reducing poverty increases economic security for all of us – and vice-versa.
What are your ideas for creating economic stability? The Alabama Commission to Reduce Poverty wants your feedback. Visit this page for more information.
Posted by Robyn Hyden