November 16th, 2010
We had such an amazing response to our Served in Birmingham benefit last week! You helped us raise over $4500 to support our matching grant from the Community Foundation of Greater Birmingham. We couldn't have done it without support from our friends, partners, and all of the donors – old and new – who showed up to support our work.
Hannah and T.C. welcomed people to the Kress building penthouse.

Guests pose with board member Carlissa Strong Cunningham and Executive Director Kristina Scott.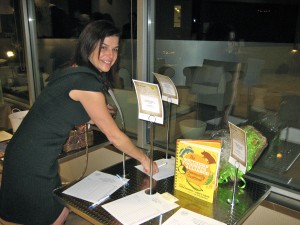 Joyce Spielberger bids on the Southern Cooking silent auction package.
Bread for the World President David Beckmann stopped by in the midst of his whirlwind tour of Birmingham to talk a bit about how we can all fight poverty and hunger.
Rev. David Beckmann

Didn't get a chance to hear him speak? Check out this video, in which he talks about some of the people here in Alabama who made a huge difference through advocacy. The work Reverand Beckmann is doing through Bread for the World is vital, and we are blessed to count his organization among our partners!
Thanks also go out to the following partners and sponsors whose silent auction donations helped us meet our fundraising goal: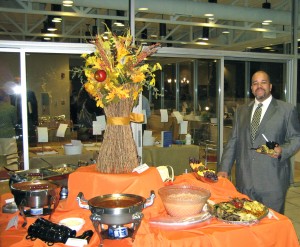 APP donor Kevin Cunningham was one of many who enjoyed Chef Jarman's food
Special thanks go out to Joannetta Jarman of Catering by Lanetta for providing some delicious healthy food and drink, the law firm Wiggins, Childs Quinn & Pantazis for donating their space in the beautiful Kress building penthouse, and The Grodner Group for planning and marketing the event.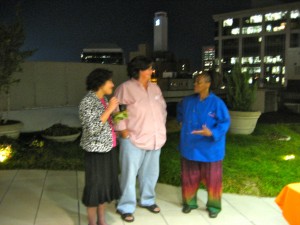 Chef Jarman talked about the importance of nutrition education in schools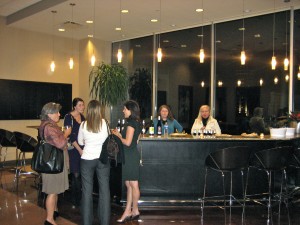 The ladies of the Grodner Group (behind the bar) worked behind the scenes to make everything run smoothly

Most importantly, to all of you who have supported us in the past year through individual donations: THANK YOU! Your generosity enables us to continue our work on Higher Education, Blueprints, The Alabama Commission to Reduce Poverty, hunger and food security, data collection, and more.  If you weren't able to attend our benefit and would still like to contribute, follow the link below to make a tax-deductible donation, which will be matched dollar-for-dollar by a Community Foundation of Greater Birmingham matching grant.
We really can't say it too many times: thank you!
Posted by Robyn Hyden