November 30th, 2010
APP Board Member Carlissa Strong Cunningham knows firsthand what it means to live in poverty. During the late nineties, she was a divorced mother fighting to raising four kids on a combination of welfare, work and food stamps.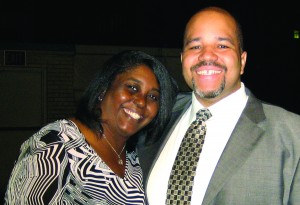 Above: Carlissa with husband Kevin Cunningham at our fall benefit
Carlissa remembers one year when she completed her tax return to find out that she and four kids had lived on just $2,000. Now, she is a senior financial analyst and is putting her oldest daughter through college.
How did she get there? Personal relationships. Education. And hard work.
Carlissa knew she needed a college degree to have the career she wanted.  She took classes atJefferson State Community College and earned associate's degrees in business and accounting.  After a lot of research and soul-searching, she decided to continue her studies at Samford University. It was tough, but "God made a way for me to go to Samford," she says. With scholarships and financial aid, she was able to afford it.
Carlissa benefited from the relationships she made at Jeff State and Samford, where professors and other students provided encouragement. "I had members of the Samford football team babysitting for me in exchange for home-cooked meals," she recalls. She founded a campus chapter of Students in Free Enterprise and participated in Diversity University, campus ministries, SGA and Phi Theta Kappa.
Carlissa's struggles to make ends meet inspired her to earn a business degree so that she could help others become more financially literate. After graduation, she served as an Americorps VISTA with the New Hope Community Development Federal Credit Union, which eventually led to her first banking job.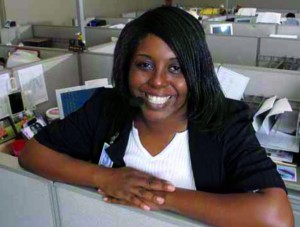 Above: Carlissa at her first job post-graduation – image via Samford Belltower, 2004
Through it all, Carlissa says that she was most blessed by serving others. Even while busy with a full course load, four young children and numerous extracurricular activities, Carlissa found time to give back to others through ministry.
"I felt so lonely after my divorce," Carlissa recalls. "God asked me – what did I miss about my husband? I like to cook. I loved cooking for my husband. When was I most lonely? At night. God said, 'Cook for me. Take your light out into the night.'"
So Carlissa started taking huge home-cooked dinners out to Linn Park on Friday nights, where the hungry and homeless congregate. More than decade later, she's still going back to lead worship and provide food and fellowship in the park with volunteers and members of her church, Harvest Community.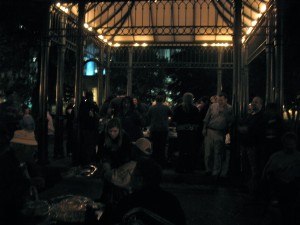 Above: Friday dinners at Linn Park are a beacon in the night

Along the way, more people have joined in. When she was a student, she was cooking for 100 people almost every Friday. Even with help from fellow students, "It got kind of exhausting." Now, at least five churches from around Birmingham take turns bringing meals. With all the extra help, Carlissa cooks only four times a year – "always homemade, always from scratch!" She takes vacation days from work to be able to prepare the food the way she wants, and she wouldn't have it any other way.
"It's a treat – it reminds them that they are loved, they are worthy. We always wear gloves, and practice good sanitation – I'm not going to serve them something I wouldn't eat myself." Even when she's not cooking, she takes off work early to make it out to Friday evening dinner. In the summertime, she organizes people to distribute coolers of cold water during the week; in the winter, they bring hot cocoa, coats and blankets. Through relationships formed in this ministry, Carlissa and friends have helped people get their drivers' licenses, medical care and other services.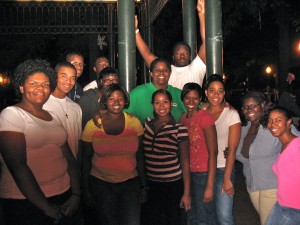 Above: Carlissa, her family and Samford students serving dinner at Linn Park
What Carlissa enjoys most is the fellowship. "These people have stories," she says, gesturing to the folks gathered for dinner. Some are old and ill, some have college degrees, some have jobs. Some she has known for years, and some she just met.
"It's an awesome journey. I am always encouraged to be here. I just show up, and people are hugging on me, loving on me – it feels great." And, she adds, "when you make a person feel welcome, feel at home, you can really say something to them." But Carlissa says that she is the one who is most blessed by ministry: "You don't do this for others. You do this because it blesses you."
Carlissa recently married Kevin Cunningham and works as a Senior Financial Advisor at BBVA Compass Bank. Her oldest daughter is now a third-year student at Samford University.
Through her leadership as an APP board member, her relationship-based ministry and her personal story, Carlissa inspires us. We are thankful for her and others like her – people who show us that it is possible to end poverty, one relationship at a time!
This holiday season, we're highlighting partners like Carlissa who show us what is really possible.
Did you know:
Your support allows us to continue our work mobilizing Alabamians to end poverty. We thank you for your partnership and generosity during this holiday season.
Posted by Robyn Hyden