July 4th, 2010
"Children should be educated and instructed in the principles of freedom."
–John Adams, Defense of the Constitutions, 1787
John Adams and the rest of our Founding Fathers set a standard for how democracy should work in America—we should get together and deliberate about issues that are real to us in order to find solutions, and then go out and make those solutions become a reality.
The Founding Fathers used this process to unite 13 colonies into one United States of America.  And it all started with a conversation.
I recently attended the Citizens' Congress, which was sponsored the David Mathews Center for Civic Life and held at American Village in Montevallo, a place that instills in kids the values of democracy that our Founding Fathers set forth.
The Citizens' Congress brought together people from all walks of life in Alabama to discuss ways to fix the problem of high school dropouts in Alabama. What I found really interesting was what the high school students had to say.  They had seats at the table, and shared their take on why their peers drop out and what they think should be done to fix the problem.
I sat at a table with five high school students, three from Birmingham and two from Anniston. Their solution? Make school more engaging; they are bored with worksheets and want to get up and move every once in a while!
Having come to APP after being an intern with the Mathews Center, I've really seen that the best tool to fight the issues of systemic poverty in Alabama is engaging the public and finding ways to harness the power that we all have as citizens to make our society one we're proud to leave our children.
That's something to think about as we take a day to reflect on the essence of democracy – and enjoy the fireworks!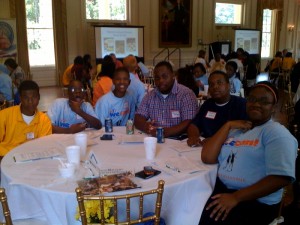 Posted by Will Thomas