June 7th, 2010
Yesterday, the American Public Media program Speaking of Faith re-aired a 2007 show about our partner Auburn University's Rural Studio – a project in which architecture students plan and construct affordable, sustainable buildings in Hale County, Alabama. The APP staff was fortunate to see some of their 20K houses and other projects when we visited Greensboro in January.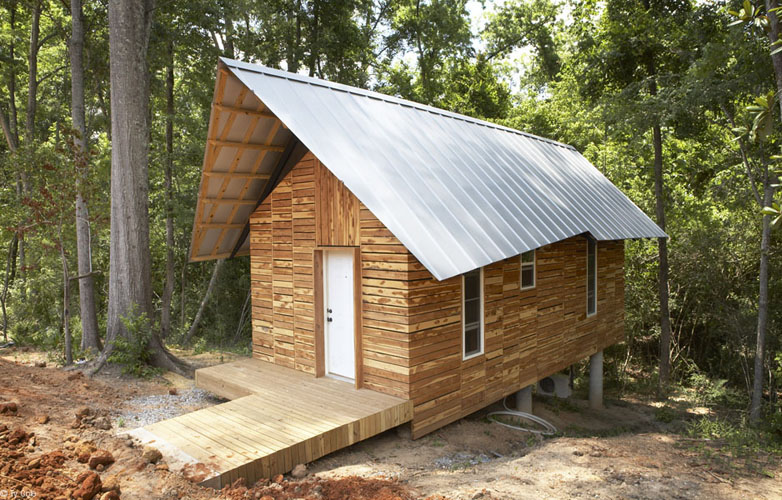 The 20k house is designed to be built with only $10,000 in materials, with the remaining $10,000 budgeted for labor, permits, and other costs. Why only 20k? Low-income rural residents can qualify for a $20,000 502 Direct Loan from the USDA rural development program. Rural Studio's ultimate goal is to come up with several housing plans that will be embraced by the community as a viable alternative to mobile homes.
Students are currently working on Version 9 of the 20k house as part of a thesis project. Rural Studio participants often stay in Greensboro for an extra year after graduation to complete their projects – a testament to their dedication and commitment to the project and to the community.
I love this video, which shows how students at the Rural Studio have adapted the design of their 20k houses to meet the needs of the community members who will use them.
If you are interested in learning more about what Auburn is doing in the Black Belt, make plans to see Citizen Architect, a film about Rural Studio and its founder, Samuel Mockbee. The documentary will be showing at the Birmingham Museum of Art on July 29, and premieres on APT in August.
Listen to the entire Speaking of Faith program, "An Architecture of Decency."
Posted by Robyn Hyden