April 26th, 2010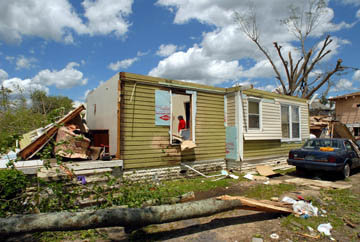 "Albertville residents relied for a great deal on friends and neighbors on Sunday during the initial cleanup of the town which was struck by a tornado about 9:30pm Saturday." Huntsville Times – photo by Dave Dieter
Our thoughts and prayers go out to those in Albertville affected by the tornadoes this weekend. News reports from Albertville indicate that 25 people were injured, most of them residents of the West End Mobile Home Park, where many homes were flipped over or completely destroyed.
Over a 45-year period, Alabama ranks 13th nationwide in the number of tornadoes that hit our state, and 16th in the ratio of tornadoes to total population. However, over that same period, we rank 3rd in the number of tornado-related injuries, and 5th in the risk for tornado-related deaths.
Why the discrepancy? The 2000 census showed that 16.3 percent of Alabama houses were mobile homes, which is 10 percent higher than the nationwide average. So, because a much higher percentage of our population lives in mobile housing, we are disproportionately vulnerable to tornado-related injuries and deaths.
Many low-income Alabamians buy mobile and manufactured homes because they are affordable. However, this choice places them at risk of injury, home loss, and even death. Lightweight materials make mobile homes especially vulnerable to severe weather, so storm shelters are essential in mobile home communities. Mobile homes are also more vulnerable to house fires and flooding (PDF).
What's the alternative?
Several groups in Alabama are working to bring low-cost, safe, energy-efficient homes to low-income families.
Auburn's Rural Studio has pioneered the $20K house in Hale County
HERO (Hale Empowerment Revitalization Organization) in Greensboro, Alabama, counsels families into permanent housing
Habitat for Humanity is looking at ways to extend housing options for lower-income families or individuals who may not qualify for traditional habitat homes
Again, our hearts go out to the survivors of the storms this weekend. We encourage you to donate to theRed Cross or other organizations providing immediate disaster relief to our neighbors in Alabama and Mississippi.
Posted by Robyn Hyden