May 7th, 2010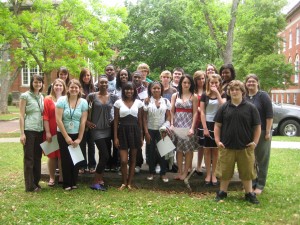 Above: Montevallo High School freshmen visit the University of Montevallo with mentors from UM and APP.
"I learned today that I can afford to go to college when I thought I couldn't!" -Francis-Marion High School Blueprints Student
Last week, we wrapped up our first semester of Blueprints, which matched college student mentors from Montevallo, Birmingham-Southern, and Judson College with high school students in Montevallo, Hueytown, and Marion. The goal of Blueprints is to show Alabama high schoolers that they can go to college, while getting college students out of the classroom and into a rewarding service-learning experience. We received consistently positive responses to our 8-week pilot program.
Your donations made this program possible! Thank you to all of our donors for helping improve higher educational attainment in Alabama. We rely on your continuing support to ensure that Blueprints thrives into next semester and beyond. In order to sustain the relationships we have built with students, teachers, and counselors at our Blueprints sites around the state, we need your help.