July 19th, 2010
As the Gulf Coast oil spill catastrophe has dragged on for months, the APP team has been wondering what we could possibly say about something that has so radically impacted our beautiful coast, our fishing and tourism industries, and the people affected by this tragedy.
Sometimes it can feel hopeless to watch a tragedy like this unfold and to have little power to do anything. Yet there are ways you can reach out to our neighbors on the gulf.
We promote advocacy, philanthropy, and volunteerism as ways to make a difference, and we think this article gets it right when it recommends looking for ways to help financially through an affiliated community organization. While there may be little use for donated hair, and the Audobon society doesn't need volunteers to rescue birds,"Your local church or service organization may have a sister group in an affected Gulf city—and that's a great place to start looking for a home for your charitable dollars."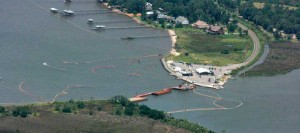 Work to contain the oil spill continues in the Gulf – image via Shelby County Reporter
You can also vote to help our friends at the Bay Area Food Bank receive a $50,000 grant to help feed those affected by the crisis. Vote daily – if they make it in the top ten by the end of the month, they win.
We also liked this story of concerned Shelby County airport pilots flying tourists down to the Gulf to help boost their economy. Philanthropy is about doing what you can with what you have.