May 17th, 2010
Lindsey Mullen, an alumnae of our Montgomery Hunger Workshop in March, shared an exciting update with us from the Growing Together ministry at the University of Alabama's Canterbury Episcopal Chapel. Lindsey works with the David Mathews Center for Civic Life and is a regional coordinator with Impact Alabama. She is one of the many young people making change in Alabama possible.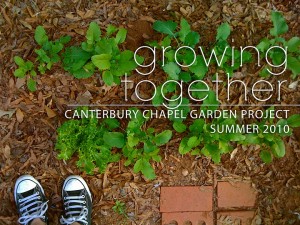 "I just wanted to thank you and your staff for the work that you put into this workshop, and to update you on what I've been doing with some of the things that I learned at the workshop…
"First of all, at Canterbury we've started a vouchers program with a farmer's market that's held on our lawn every Thursday, so that the people who come to our food pantry (called the Deacon's Deli) now receive vouchers to buy fresh, local produce for their families. The idea behind this is that we're not only providing for those in need, but also supporting local growers and our local economy. We were a bit nervous that the people who came to Deacon's Deli would have trouble with transportation or wouldn't be interested in buying fresh produce, but, while we still want to consider how we can help overcome these obstacles, we had a great turnout this past week, and lots of people showed up to spend their vouchers at the market! The funding for this program comes from the money that students raise during football season by parking cars on our church lawn. There's a full description of the program on Canterbury's website.
"Something else really exciting is that this evening we're breaking ground on a small community garden, which we hope will help build community here and supplement our food programs. The inspiration for this project came from what we heard about the Seed to Table project in Montevallo. And, in partnership with UA, the DMC, Homegrown Alabama, and the Druid City Garden Project, Canterbury has been able to hire a summer intern to work on the garden. Through this internship, the Mathews Center is hopeful about exploring networks of people interested in community agriculture, food security, hunger, and other related issues. I'm hoping that this will eventually lead into some statewide conversation on how communities can act together around these issues."
See a video slideshow of Canterbury Garden's groundbreaking: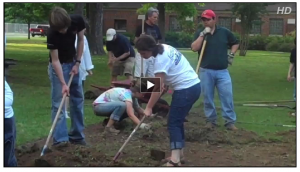 We share Lindsey's interest in spurring a statewide conversation, as well as more cooperation, collaboration, and relationship building with hunger and food security! That's why we're hosting a Hunger Workshop in Mobile on June 22. And why we're helping to organize the 2nd Annual Birmingham Food Summit in November (more details TBA, so stay tuned.)
Thanks for the update Lindsey! We look forward to hearing more about the great work that Canterbury, and other similar ministries, are doing throughout the year.
Posted by Robyn Hyden